Embellishments - Come In All Shapes, Sizes And Textures . Deciding What To Use, How Much To Use And Where To Use, Can Make Or Break The Success Of Your Craft Project.

Embellishments - defined as - " beautify something: to increase the beauty of something by adding ornaments or decorations."
These decorations come in all shapes, sizes and textures. They can be metallic shapes, chipboard shapes, silk flowers, rhinestones, brads, buttons, bows, tags, pockets, fabric scraps- the list goes on.
When you think rationally about all the bits and pieces you gather for decoration, it is easy to calculate that it can become quite expensive. How often have you seen something that catches your eye in a shop? What often happens to your purchases? If you are like me they join the "STASH"- that collection of items that "I will use sometime!" It seems to keep growing, doesn't it?
Many crafters can create a decorative element from scratch. To find ideas about creating your own unique decorations, with easy step-by-step instructions visit Creating Embellishments
You'll be amazed at what can be made from all those bits and pieces you have in your craft cupboard. Combining different media, textures and shapes gives you unlimited possibilities for truly unique decorations. Use many of the great colouring systems available on the market today and you can colour match your entire project perfectly.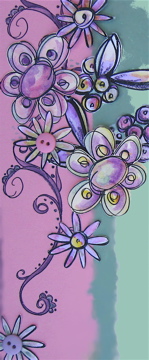 Where Can You Use Embellishments?
The most traditional use in paper craft is on Scrap Pages.
Many a page has been made unique and personal by the inclusion of interesting and appropriate decorations chosen by the artist. Even if everyone starts with the same layout, many different solutions will be achieved because of individual choice and positioning of the elements.
Colour, texture and depth play a role in the overall effect and help to define your personal style.
Follow this link to see more decoration examples on scrap pages.
The latest trend in card making is to include 3-D embellishments on the card front. Many of these embellishments can be removed from the card and used over again.
Sometimes the decoration comes in the form of a bookmark, or a badge that can be removed and worn by the recipient, a Christmas ornament to hang on your tree, a magnet or even a decorated hair clip. It just depends on the imagination of the creator and the theme of the occasion.


View card ideas and share your creations
Patterns for Bags, Boxes and Pouches of all sizes and shapes, have been designed by crafters and generously shared on-line for everyone to enjoy.
These items are made to be embellished!
Whilst they can be constructed from all sorts of paper craft materials, including envelopes, double sided papers, chip board, card stock and more, embellishments are the "icing on the cake" when it comes to completing the project. Again this individualizes each creation and enables you to create for any occasion such as Birthday, New Baby, Wedding, Christmas or Friendship. You can cater for either gender: male or female, child, teenager and adult.
View the Stampin Up Catalogue for Embellishment products

Return to Anns Stamping and Scrapbook World Home Page