This is a difficult question to answer, because every individual has a different perception of what looks great.
There are a few guidelines that can be followed to assist you to make an informed as well as an emotive decision.
When crafting, it is usual for the creator to select "what looks right" to put on a page. That is a great starting point. Here are a few more considerations that you may like to employ before that final stage of sticking everything down.
Make your embellishment echo the theme or part of the theme of your topic. You may have used journalling on the page, where you've told an anecdotal story about the photos. Journalling is a good reference point for your embellishments. For example. Your story may talk about trucks - make a little truck for decoration. You may have written about "Reaching for the Stars" - include stars on the page. Or you may have a "Pirate" theme.
This is a solution for some of the decorations on a child's Pirate Theme page. It uses a stamped image of a pirate that is hand painted onto water colour paper. The water theme is carried through by using different sized and coloured circles (punched out of card then stamped) . The birds are painted, cut out and raised up.

Pre-cut chipboard shapes make excellent bases to cover with co-ordinating papers. In this example, the paper is glued to the board and then lightly sanded around the edges to give a "distressed", casual effect.
Layering Shapes and Found Items like buttons and string, ribbon off-cuts, fabric scraps or office supplies creates a whole new array of decorating options. Combine these with co-ordinating patterned papers to create variety in simple shapes, and visual interest on the page.

Decorate The Embellishment With Doodling.
Single line doodling is an effective way of drawing a number of elements together on a page. The shapes can be outlined, stylized and repeated.
Doodling with dots and dashes (faux stitching) is another effective, yet inexpensive form of decoration. All you need is a fine tip marker pen, a little bit of time, and an instant effect is achieved.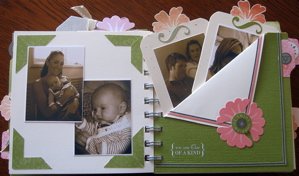 Tags make pretty as well as practical embellishments.
The term "Tags" can cover many aspects of page decoration. A simple tag can be made by folding a piece of card stock in half and gluing it to either side of a page. It then takes on the practical role of assisting the viewer to turn the page.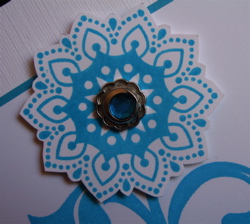 Many crafters are not content with "simple," and want to decorate the tag as well as the page. There are many punches that will punch out beautifully formed shapes that can then be stamped with co-ordinating decorative stamps.
Tags can be formed by adhering two precut self adhesive motifs together. They can also be cut out of card -to any shape you want. Add a photo, a flourish, patterned papers or words and you will create extra space on your page to fit in that extra bit of information or other photo that otherwise would not have suited the layout.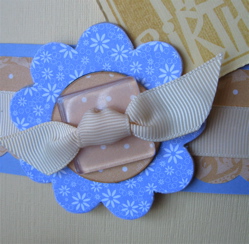 A Single Motif Always Makes a Strong Embellishment.
The motif can be a simple floral or geometric shape. It can be treated in a number of different ways, such as stamping, embossing, glitter, covered with paper, layered with other items, and so the list continues. You can create whatever you want, but take care not to decorate "just for the sake of it".
Check the colour distribution around the page.
An easy way to do this is to stand back from the page, squint at it, take note of dark and light areas, then re focus on colour and establish if a pleasing compositional balance has been achieved.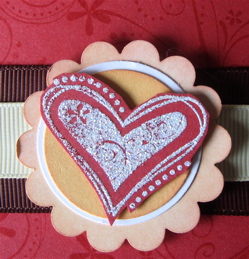 There are many different ways to create unique decoration for your scrap pages, but where do you find good quality tools and supplies to help? Dedicated craft shops, general department stores, on-line stores and demonstrator based businesses provide a multitude of opportunities to purchase a huge variety of products.
Demonstrator based businesses have the additional bonus of "Try before you buy." You can discuss different techniques, see them demonstrated and find out about the qualities of the product - usually you can test the product before you purchase.
It is important to use good quality products so that they'll stand the test of time. Acid Free products are highly recommended for scrap pages but are not always necessary for cards, bags and boxes.
Simply Scrappin' Kits from Stampin' Up!, are a terrific find. - You can purchase a kit that has 6 quality die-cut, self adhesive pages of embellishments made from card, with 6 sheets of 12" x 12" co-ordinating double sided, patterned papers and 8 co-ordinating sheets of textured card stock. that equates to lots of embellishments in a flash and enables you to quickly create beautiful layouts.
Some of the following links may assist with your purchasing decisions.
You can

contact me for all Stampin Up enquiries and orders.
View the Stampin Up Catalogue for all your embellishment products

See more ideas for Embellishments on other projects