Embellishments help to individualize your hand made cards. See examples and find resources to assist with your creations.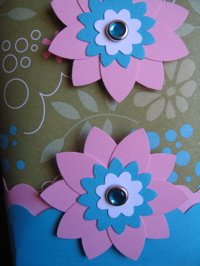 Embellishments can add dimension and a focal point to cards. They are important in a number of ways, but none more so than to show that your greeting is backed by the effort of creating something unique for the recipient.
It is interesting with the resurgence of hand made cards, that many commercially produced cards are mimicking the effect of added decorations found in craft cards. You'll find 3 dimensional effects, added ribbons, glitter, badges, buttons, tags and removable decorations.
Most people delight in receiving a hand made card. This applies to men and women alike. Our modern society seems to seriously lack the essential commodity of time and it gives you such a nice feeling to know that someone thinks enough of you to spend time making a special card.
Card Shapes
Recently I was looking through some old boxes and found some Baby Congratulations cards that were almost 60 years old. I was fascinated to observe that many of the techniques that are fashionable today, were used in card making back in the 1940's. Elements like dry embossing, cut away shapes on the card front, and the use of ribbons, all occur on the cards. They were commercially produced cards, but they manage to convey a feeling of individuality - something that is often lacking in the mass produced items of today.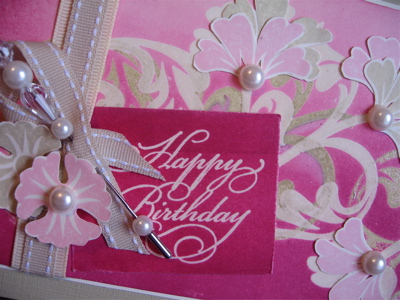 This card uses products from the Stampin Up "Pretties Kit". The pearls, both half and full circle, plus the hat pin and crystals give you a terrific base to create many gorgeous,unique decorations. See the "Pretties Kit" in the Stampin Up Idea Book and Catalogue.


Trends come and go. Certain styles are preferred at different times and it is wonderful that there is such a resurgence of feeling for hand made cards and gifts.
How you choose to decorate your cards will say a little about your personality. Some cards will be very pretty with lots of flowers, ribbons, pearls etc. Others will carry a modern theme with simplified shapes, a limited range of colours and they will often appear on glossy card-stock. Some cards will be rustic in appearance and others will be generic- you can use them for any occasion and for any age. But the one thing that most of them will have in common is some form of additional decoration.
Types of Embellishments
Flowers and Charms
Buttons and Bows
Brads and Eyelets
Pockets and Tags
Where Do I Buy Embellishments?
Lots of stores carry pre-made embellishments that are self adhesive and ready to stick onto your card. On-line stores are a convenient alternative - stay in the comfort of your home to shop!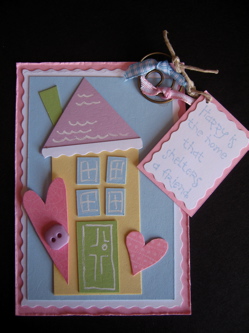 Scrapbooking and speciality Paper Craft stores are good sources for quality products. However, let's say you want to be really individual and create your own unique added decorations for your cards. That is where I can help you. Look at the on-line catalogue to view a huge range of top quality products to help you make individual decorations.
How Can I Make My Own Embellishments?
There are many ways to create individual decorative elements - limited only by your imagination and the supplies you have on hand.
Here are a couple of ideas to help you get started. But first you'll need the equipment to get started.
Use your little bits of left over scrap paper with a White Gel Pen to create a sweet little House embellishment. Add a bit of Hodge Podge, some ribbons and string, and a maybe a greeting. Layer your embellishment on other pieces of card a couple of times to a) give it strength b) enhance the presentation and c) use up more scraps!




Order your supplies to create your own embellishments here

Ways to use Stampin Up "Hodge Podge"

Return to "anns stamping and scrapbook world" Home Page