Interested in a Home-based Craft Demonstrator or Business Opportunity?
Opportunity comes to those who grasp the moment.
Read on, and I will give you a number of demonstrator options where you can...
Take the opportunity to create a business that fits your lifestyle
You may be a stay-at-home mum who wants to earn money to cover her craft addiction! or...
You may be a busy professional who understands the importance of a creative hobby to ease the daily stresses, or...
You may be retired and want to enjoy companionship with other paper-crafters, or...
You may dream of owning your own business in the craft industry -
this has always been a dream of mine and now I am living the life I have always wanted. My only regret... that Stampin' Up! did not come to Australia earlier in my life-time.
Joining Stampin' Up! is such a fun way to earn an income while spending time doing the crafting that you love so much!
You'll be surprised at the variety of options available to those who "Join our Family", and at the very friendly community of Stampin Up demonstrators. Take the Opportunity to browse through the Demonstrator information to see if any of the options strike a cord with your own lifestyle or wishes.
If you would like to receive further information
Contact me
using this form, and I will answer your questions.
You don't have to be experienced at stamping - I had never stamped before. Stampin Up provides loads of company support through publications such as the annual Idea Book and Catalogue.
Click on the picture to browse the catalogue.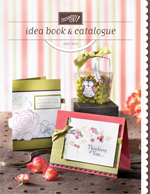 Monthly newsletters, mini catalogues, business booklets, forms and brochures are available to assist you in your business or hobby. There is also a fantastically comprehensive web-site, regional training sessions and the wonderful annual Convention

But best of all, is the friendship and support of other demonstrators, Australia wide.

The company brochure relating to the Demonstrator Opportunity states... Join our Family. This is such a true statement.

The feeling of goodwill and belonging is so evident, that it is a pleasure to be part of.

I love to try new techniques and set new challenges - I am even teaching myself to write this web-site - and I am severely technologically challenged!

However I thrive on the opportunity to try something new, and I am having so much fun that I want to tell everyone how wonderful it is belonging to the Stampin' Up! Family.

Explore and enjoy my web-site to see the sorts of things I, as a team leader, can offer you. And remember if you would like further information on this Opportunilty, I would love to hear from you. I now have a Demonstrator Business Web site where you can apply on-line for your Starter Kit. You will need to obtain a code from me, but it is a simple process. Just go to my DBWS home page and select the START YOUR OWN BUSINESS menu.

You can read a little more background information on Stampin' Up! as a company

by clicking on this link



Learn more information about the Stampin Up Demonstrator Starter Kit
---