Creating Projects With Rubber Stamp Sets Is So Much Fun - Anyone Can Do It....
especially when you have the advantage of co-ordinating rubber stamps being grouped and sold as sets.
Whether you are a child, adult or senior citizen, male or female - rubber stamping does not discriminate. It loves everyone.
Why? Because a lot of the hard pictorial or graphic work is already done for you. You can create fabulous results simply by inking up the image and stamping it onto card stock, paper, fabric, candles, craft woods - the list is only limited by your imagination and willingness to experiment.
Rubber stamps come in many styles - my card gallery shows the results of using many different styles of rubber stamps.
Most stamp sets contain images of varying sizes, and this gives you a helping hand to bring some variety into your creations without really thinking too much about it.
The styles available in stamps are so diverse that everyone can find something they will really like to "play" with.
You might love bold designs, solid shapes and modern themes. Or you may prefer intricate, linear or traditional stamps. Many stamps create visual or faux textures, and others are simple outlines that lend themselves beautifully to Colouring Techniques
Look at the gorgeous "Bodacious Bouquet" stamp set from Stampin Up! © 2006 . Note the seven varying sizes of the nine stamps in the set. This creates fantastic opportunities to create many different cards, gifts and scrap pages using just the one set. You can see some of my Bodacious Bouquet creations in my gallery



| | | |
| --- | --- | --- |
| 

 | 

 | 

 |
| 
The fine detail and intricate line work stamps beautifully because of the deeply etched rubber. | 
Bold, graphic images require precise deep etching to delineate the designs. | 
The intricate detail of these word stamps can be reproduced in stamping and embossing |
But there is one thing you must be aware of when purchasing rubber stamps - ensure the image is deeply etched into the rubber. One company that always delivers in that area is Stampin' Up!® - their quality is excellent. I always use the products and have never been disappointed.
Why does the image need to be deeply etched? It is simple - you want a clean, sharp image when you print. If there is not enough depth between the raised image and the rubber base of the stamp, you will get plenty of smudges and other bits printing that you just do not want. Many of the less expensive stamps are too shallow to give you clean images, even if you are very careful.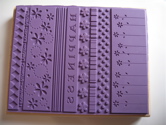 I suggest you go for quality if you care about craftsmanship, and you want your projects to look great.
If you would like to to see a full range of stamp sets, browse the current Stampin' Up! Idea Book & Catalogue on-line.
Stamp sets in the Stampin' Up! Ideas Book and Catalogue
I know you will love what you see in the catalogue.
Don't forget to come back to me! See what is available and when you find stamps sets that you must have, I can order them for you, hassle free,
Stampin' Up ® is a direct sales company and you can only purchase the supplies through Independent Demonstrators (like me). Orders are shipped directly to your home address.
There is another essential element to stamping and that is choosing the correct INK for the technique you are using. Click here to discover more about different inks and their uses.
Rubber stamping is a social activity too. Card making with the children on a wet day, or meeting with friends and fellow crafters in workshops, brings much happy chatting and many hours of creative interaction. So, let's get started on some stamping techniques....
Forward from Rubber Stamp Sets to Stamping Techniques

Discover how YOU can save 20% on all your stamping supplies

Comments