So Many Ink Pads! Which One Should I Use For My Project?
Ink pads come in different sizes. Most of them have a lid that lifts off the top.

However, Stampin' Up!® has created a fantastic design that not only stores the ink so that it flows to the top of the pad, it has handy grips on the side to help avoid dropping it on your work. These are quite large in comparison to other brands, they sit snuggly on a table top or can be held by the side grips, when you ink up very large stamps.
You can buy a variety of inks for stamping and it is important that you understand the different uses for each particular type..
Let's list the basics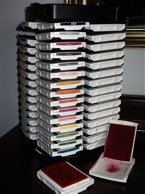 Water-based dye Ink.
The variety of colours available here is enormous depending on the brand. These inks can be used with the stamps as outlines or shapes, or you can use them to colour in images by creating a pool of colour and spreading the ink onto the page with a soft paint brush, a blender pen or an aqua painter.
Confused? See some examples and basic instructions for using ink pads in colouring techniques

Waterproof dye ink.
Some colours such as Basic Black, Basic Brown and Basic Grey, come in the waterproof version of dye inks. This means they will not smudge even when wetted after they have dried. They only take a few seconds to dry, and they may stain the rubber on your stamps if not cleaned immediately after use. Also beware of getting this ink on your clothing - no it is not suitable for the kiddies, and I would suggest protective clothing for the really "creative", aka messy adults.
Staz-On® Ink.
Perfect for printing on non porous surfaces such as cellophane bags, glossy card-stock and glass, to name a few. It is also wonderful to use on watercolour paper.
I call this smelly ink as it has a spirit smell that brings out the worst in me. After many years at art school, working with oil paints, thinners and turps, my tolerance of anything like this is miniscule. However, I still use it in a ventilated area because I love the effects I can achieve. Have a look at some crayon resist cards created using these ink pads
Versa Mark Ink Pads.™
This is probably my most favourite ink. It is so versatile , and I love using it for watermarking coloured card-stock, resist stamping, embossing, heat & stick with glitter, and pastels/chalks. Have you tried these techniques? Have a look at some examples in my gallery
Alcohol Inks.
Wonderful, whimsical, free flowing are just some of the adjectives you can use to describe these inks.
Find out more about these little beauties...
Metallic Inks
Here you have the 3 well known metals - gold, silver and copper, and thanks to modern technology, a variety of metallic colours is now available. Look for metallic pink, purple, blue and many others.
The best known brand is Encore!™ And yes you can buy some Encore Metallic ink pads from Stampin" Up! ®. These are pigment inks and they are ideal for stamping and scrapbooking because they dry within a reasonable time frame and the ink is archival so it is safe to use near your precious photos.
These inks can also be used as the base for embossing another world of fun

The size of the Encore pad ( 97mm x 63mm) is adequate for most stamps, and refill ink is available. Re-inking is an easy and economical way of replenishing your ink pad. I have owned my gold and silver for 2 years now and they have remained moist. I do store them upside down so that the ink keeps towards the top of the pad, rather than pooling at the base. It makes sense to do this, and I was influenced in my decision of storage by the design of the Stampin' Up!® Classic Ink Pads, which I think is brilliant.
Are your ink pads drying up? Do you want an economical way of refreshing them?


Try this link to re-inkers to find out how, and discover additional uses for these marvelous little bottles.