Enjoy A Little liquid Refreshment in Your Craft! Re-Inkers Can Help.
Yes we all like a cuppa, a glass of juice, water or even a wine, on hand when we are creating, but I am talking about using liquids, aka Re-inkers on the page.
What happens when your ink pad runs dry in the middle of a project? You reach for your little bottle of ink called a Re-inker. Yes those handy little bottles that are so easy to store, and can add that extra oomph to a drying ink pad, come in very handy during a crisis.
Now you may tell me that your Stampin Up Classic Ink Pads seem to last forever. And I have to agree that they last for ages (2 years for mine and still going strong after dozens of workshops) but they will eventually need a top up. The re-inkers are an economical way of doing this, and unless you have been very rough on the surface of the ink pad then I am suggesting this is the way to go.
They have other uses too...
Sponging ink onto card stock can be quite frustrating if you're trying to get strong colour onto your work, as it takes some effort and a few layers when picking the ink up from the ink pad surface. An easier way to do this is to open your ink pad up, and pour a little of the re-inker contents onto the inside of the lid. Use it as a "well"- absorb the ink into the sponge and ....voila! Just be careful to try this method on a scrap first, as some of the colours are very strong, and this method gives quite a different effect to the softer look you achieve from regular sponging.
Want more reason to purchase re-inkers?
They can also be used to colour un-inked Stampin Around Wheel cartridges. You will notice if you check the catalogue on pages 130 - 131, that not all the colours are available in the ink cartridges. It is so handy to have all the colours available to use when you want them. Just the other day, I had an inspiration that I just had to make, but no cartridge in my chosen colour. I always keep a couple of spare un-inked cartridges, and of course my re-inkers were there, so.... problem solved. It is such an easy thing to do too.

There are lots of other uses that I will tell you about another time, so keep checking back on my website to see new pages as they are uploaded.
Using bleach (another little bottle of good stuff) on my card stock, is another favourite past-time.
Can you see in the photos that the bleached area changes depending on the base colour of the card stock?
Look at the examples, then experiment yourself. All you need is some liquid household bleach, a paintbrush, and an embossed image. Many times I use clear embossing to give a slightly "darker" stamped outline, but depending on the effect required you can use any embossing colour. The beautiful image in the centre, from Stampin' Up!'s Seaside Sketches (now retired) has a black embossed outline, as I wanted this to look more like a sketch with highlights.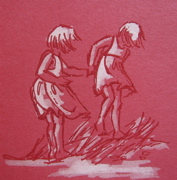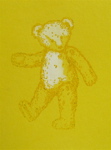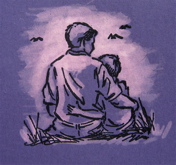 Notice how the bleach can make the images lighter when it's applied in a number of layers. A little hint here...
Let the card stock dry before applying additional bleach - this way you will not get the card too wet and it will save it buckling, but you'll be able to get different depths of bleached image.
Look at the dragonflies. You can see quite clearly, how some areas are lighter than others. You can also see the effect of using the clear embossing powder for the stamped image.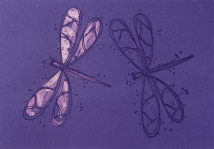 What else can be had in little bottles?
Alcohol Inks.
Wonderful, whimsical, free flowing are just some of the adjectives you can use to describe these inks. (not available at Stampin"Up!)
They are excellent to apply to non porous surfaces such as metal, plastic, old CD's (or new ones if you love all your CD's!)
You cannot easily "build" layers of colour with alcohol inks on non porous surfaces, as they tend to displace previous layers and chase the colour away. This creates an exciting effect - one that is not always easy to control, but so much fun to experiment with. Rubbing alcohol can be used to partially remove inks after they have dried, thus creating an antique effect.
---
Now that you know more about the wonderful things you can do with them, you may wish to order some re-inkers
I can have them shipped directly to your doorstep, or even better, can show you personally how to use them