Ann Craig - Stampin Up Demonstrator - About Me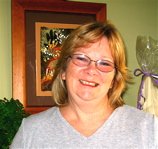 My name is Ann Craig- I'm a Stampin Up Independent Demonstrator and this page is About Me and my stamping. I live in the ACT. I am married and have 3 beautiful daughters, 2 sons-in-law and one gorgeous baby grandson.
I am a qualified Secondary School Art Teacher (25 years experience there!), and a Director (and sometimes office girl) in our family Rubbish and Recycling company. I have owned and operated a gardening business- I love gardening and the outdoors, but it didn't do good things for my body, which is getting on in years!
I have a love for dance and performance and have been very involved in Calisthenics for many years. I started my own Calisthenics club in Canberra, 30 years ago. It has brought me much joy, not only with my own girls, but all the other lovely girls that have passed through the club. I have a lot of faith in our youth and find them inspirational, determined and creative.
I was honoured to receive an Australian Sports Medal in 2000 for my work both as a coach and in coach education for calisthenics. I have been an ACT rep on the Australian Calisthenic Federation Coaching Committee for more years than I like to count.
I had no experience with stamping when I first heard of Stampin' Up! Friends of mine in the USA told me it was coming to Australia and they thought being a Stampin Up Demonstrator was something I would enjoy.
What an understatement.
I went to the first Opportunity night in Canberra in 2006, signed up on the spot and have loved every second since then. It had always been a dream of mine to own a craft business - now I am living that dream and working from home.
My favourite part is the incredible opportunity to be inventive and creative with the wonderful high quality products that Stampin Up provides. I love demonstrating at workshops, where I enjoy meeting lots of new people, and teaching a variety of techniques to everyone.
I am a group Manager with a growing team and we would love to have more of you join us. If you would like to learn more about being a Stampin Up Demonstrator, then send me an email : janncraig@optusnet.com.au
You might prefer to use the
Contact Me form here: either way, I will send you an information pack.
Currently my team members come from Queensland, New South Wales and the ACT - everyone is welcome, and location is no barrier.
Enjoy my site - Stamping truly has become My World.

Beware the malicious competitor. They can use Google against you and once they do, there's not a whole lot you can do about it. Learn more from a real life example, the Solo Build It Scam Google bomb.




Return from About Me to view the Stampin Up Demonstrator Opportunity

Anns Stamping and Scrapbook World Home Page