Collage Stamping Allows You To Customize Your Scrap Page Backgrounds
Wow! Collage stamping is so much fun. You can create or enhance your own unique papers for cards or scrap pages, simply by choosing co-ordinating inks, your favourite stamps and STAMPING!
This scrap page layout was actually for a "Using Chipboard Frames" task, so I'll talk about both techniques. The chipboard frame around the photo is the left over bit from one of Stampin Up's chipboard packs On Board Batch of Blooms. I love the added dimension chipboard provides on scrap pages and in this case I've used it as a base for raising the dragonfly image (This image is from a retired Stampin' Up! set - isn't it gorgeous?)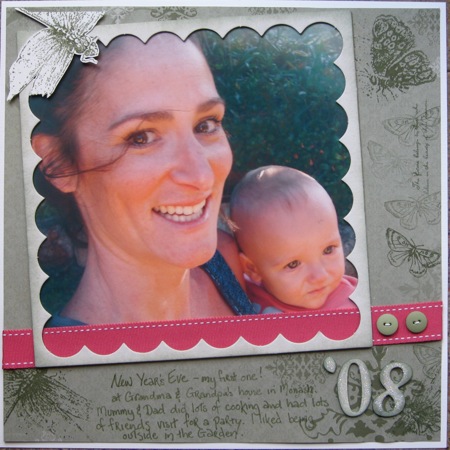 I've simply sponged some White Craft Ink onto the chipboard then (when it was dry) sponged a little Always Artichoke ink on the outer edges. quick and easy - and a technique that anyone can use in many different ways.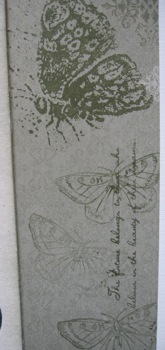 To me the idea of Collage Stamping is to personalize background papers. This beautiful paper from Stampin Up had the colours I wanted but was a bit plain when the photo was positioned. The topic is my grandson - his first New Year's Eve Party - in our back garden. So - what do you find in gardens? Butterflies and dragonflies.
The Always artichoke ink from Stampin' Up! co-ordinated beautifully - you'll find this happens with all of Stampin Up's products and that's what makes them so easy to use and create projects that "work". Why don't you have a quick browse through the current catalogue to see the wide variety of Stampin' Up! co-ordinating products available to purchase.
I've added all the different butterfly images and the words - using just the one colour, but in the case of the smaller butterfly - I used the stamping off technique where you obtain different intensities of a colour by NOT re-inking between stamping the same image.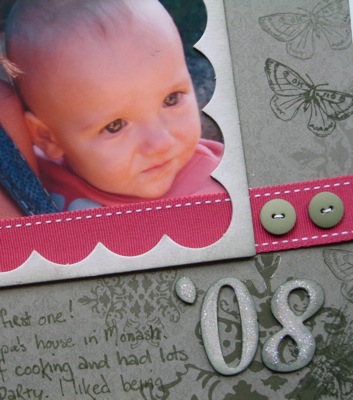 Completing the page was simply a matter of choosing from the many Stampin' Up! embellishments available. I chose buttons from the Soft Subtles range, some lovely Rose Red double stitched grosgrain ribbon - which is a luscious 2.5 cm wide and a beautiful complimentary colour for the greens - some chipboard numbers with a little dazzling Diamonds glitter to celebrate NYE and the Always Artichoke Marker to do my journalling.
HINT to obtain matching "thread" in the buttons - cut a thin strip of coloured card stock, soften it by gently dragging back and forth on the edge of the table (this softens the fibers and makes the card softer like ribbon) then thread it through the holes and secure with a mini glue dot. The same dot can be used to adhere the button to the ribbon.
Now it's time for you to have a go at this technique....



Get all the products you need for Collage Stamping at 20% discount

Contact me if you'd like more information on this topic

Home Page