Stamping Off - One of the Easy Rubber Stamping Techniques To Get You Started.
Stamping Off is one of the best rubber stamping techniques to try when you first start out. It is also known as Repetition Stamping. It allows you to achieve different tones of one colour because the amount of ink on the image lessens each time you press it on the paper, so the image is lighter.
Choose a solid image like this flower from the Petal Prints set from Stampin' Up!
This is one of my favourites, and I use it over and over again.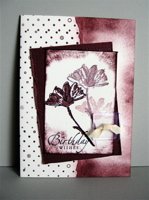 Ink up your chosen image with a strong colour (not black), and print it repeatedly onto white card stock without re-inking.
See how you have created variations in the colour by Stamping Off?
Think about the composition of your images. Does it look right? Are you happy with the result? If so, great. Go ahead and try another colour on a new piece of card.
Get to know your colours and how they re-act, as some will manage 3 or 4 images while others can only produce 2.
Not entirely happy? Then here is a little hint...
It really helps to squint at your work - you'll probably feel a bit silly at first, but this allows you to see the value of the colour and how it's placed on the page. You may find that it is very light on one side, so re-ink, and place some darker images in areas that will help bring balance to your composition. Squint again. Is the composition more balanced now?
Next we can try using two colours in the one project. Always start with the lighter colour, and Stamp Off sparingly. Squint at the page again. Then repeat with the darker coloured ink, placing the first image where you felt some darker areas needed to balance the composition.
There are a couple more rubber stamping techniques you can do to complete the card.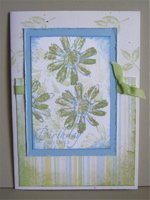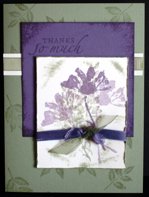 If you are feeling confident with the Stamping Off technique, and the rubber stamp set you are using has 2-step capabilities (like the Heartfelt Thanks or Petal Prints sets from Stampin' Up!) - you can define some of the images with outlines.
Choose the corresponding outline image, ink it in the darker colour and apply it over the lighter coloured images. You can use a Stamp-A-Ma-Jig to align the images or you can work randomly. It is your choice and your creation, so experiment and have fun.
To complete the project it is a good idea to cut a "window" from card stock.
Hover the window over your creation to find the most pleasing composition. This window should have a cut out the size you want your finished image, because then it can act as a frame and help you decide how to trim your work.
You have the choice to matt, raise up, texture, embellish - there are many options and you will find hints on how to use these and other rubber stamping techniques throughout the web site.

Click here to order Heartfelt Thanks and/or Petal Prints, and discover more about Stampin Up!
View other Stampin' Up! sets that lend themselves to this technique in the Idea Book and Catalogue
Link up with more rubber stamping techniques via my Blog, or


return from Stamping Off to the Techniques section


Return to Home Page