The Stamping Technique Of Pastels On Versa Mark Ink Enables You To Apply Soft Colour To Stamped Images
The stamping technique of applying pastels to colour an image that has been stamped with Versa Mark ink, was one of the first I learned when I started stamping 3 years ago. I'd forgotten how much fun it was to see the image emerge from the paper as the colour was built up.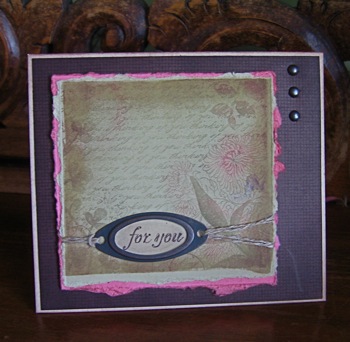 I prefer to build colour by starting with my lightest coloured pastels, applying them sparingly then gradually building up shadows with darker colours.
Here are a couple of cards I made using one of the "sneak peek" sets from the new 2009 - 2010 Stampin Up Idea Book and Catalogue.
It is called Fresh Cuts and this particular stamp is a beautiful romantic image just asking to be developed with the Versa Mark and Pastel technique. Note the variations in colour that can be achieved with this technique.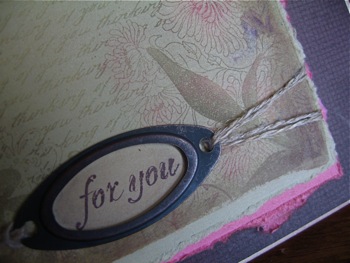 The detail shot shows how some embellishments can complete a single stamp card. A little tearing of paper, some Linen thread, a piece of Hodge Podge to contain the greeting, and a background stamp (Canvas) to create texture on the base card. The greeting stamp belongs to the same stamp set, so it co-ordinates beautifully with the larger image.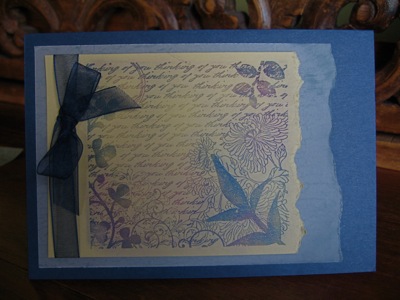 A change of colour scheme this time, but still using the same stamping technique. Blues and purples create a very soft effect, and at the same time blend well together providing a seemless transition from one colour to another.
I tried creating a texture on the vellum by stamping it with the Weathered background stamp, but didn't leave it long enough to dry before sponging the edges. This meant that the sponge removed the pattern. Oh well we all live and learn! I won't be making that mistake again.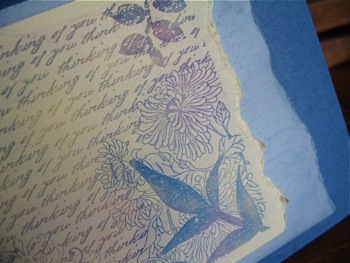 I love the detail in this stamp - see the reverse image of the script in the leaves in the upper right hand corner. This is a feature of all Stampin Up stamps - the detail and clarity of print is a feature of these deeply etched rubber stamps.
If you would like to see a little tutorial on making these cards you'll be able to follow it here.

Stamping Technique Pastel and Versa Mark


Like more information on this technique? Contact me here

Make embellishments for 3D objects using this techcnique

Become a Stampin Up Demonstrator and save 20% on all your supplies. More Information.

See Ideas Using Other Interesting Stamping Techniques

Return to Home Page