Your Scrapbook Pages Gain An Individual Touch With Stamping Techniques. Try A Bit Of Black Magic.
Creating a scrapbook about loved ones is a relaxing and creative past time.
It's no secret to those who view my website regularly, that I think I've been blessed with the cutest grandson on the earth! He is a photographer's delight, apart from not being able to sit still, but sometimes his attention is grabbed and he will concentrate whole heartedly on whatever it is that interests him.
The pages for this months Scrapbook classes show you 2 different ways of using the Black Magic Technique in your scrapping. I've chosen to use sepia printed photos that I've altered in iPhoto on my Mac and I just love this study of concentration on the little man's face as he looks at (or tries to remove) the sparkles on the hat.
I'll describe the BLACK MAGIC TECHNIQUE for you further down the page, but for now you'll see the example of it in the circles along the left side of the scrap page.
Colours I've used are all from Stampin Up, and include:Black, Chocolate Chip, Creamy Caramel, White, Groovy Guava.
Ink used: White Craft, Chocolate Chip.
Accessories: HodgePodge Hardware, Ribbon Originals, Watercolour Pencils, Rub Ons (not all from SU), Stampin' Around Jumbo Wheel.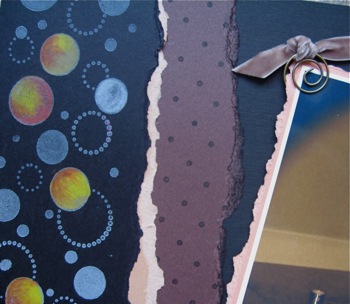 The detail shows you just how much individuality you can achieve by applying hand-colouring to your image. You'll also note the texture achieved by using two other techniques - paper tearing and background stamps. (Polka Dot from Stampin' Up).
I've always enjoyed texture in my art work and find the variety of options available through knowing lots of stamping techniques is really helpful and satisfying.
The second example shows how the re-arrangement of elements (I used the same basic scrap map for both pages), and a change in style can completely change a page even when you use the same technique.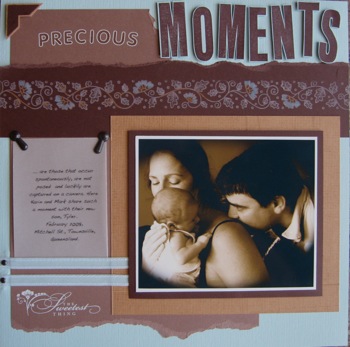 Again the use of a sepia toned photo allows you lots of choice in the colours you use to complete your scrap page. I've chosen a graphic floral image (Forever Flowers wheel from Stampin Up) and added the lovely Soft Sky from the current 2008 - 2009 In Colour range, Chocolate, Cocoa and Caramel card stock.
This photo was a snap I took when the baby was a week old. It wasn't posed - it just happened and I'm so pleased I was there. Other stamps used on this page are Canvas Background to add texture to the photo mount, and a retired Stampin' Up lettering set named Headline Alphabet. The detail shot below shows the small amount of light blue and brown colouring on the white stamped image. This strip was really quick to make and lends itself to using many colour combinations when you're creating an accent strip for a page.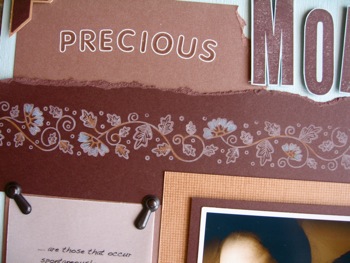 I hope my examples inspire you to create your own individual scrapbook pages using this technique. Now here is a quick over view of the instructions.
BLACK MAGIC TECHNIQUE
Choose any dark coloured card stock - I've found Black, Navy, Eggplant, Chocolate and Hunter all work well.
Place a craft white cartridge in you Stampin Around Wheel if you're doing a 12 x 12 page, or you can just roll the image onto the craft white pad if doing a smaller area that one revolution of the wheel will cover.
Roll (or stamp a repeated image) onto the card. Allow to dry or hasten drying with the heat tool.
Use Watercolour Pencils to colour the images or parts of images - the water colour pencils are softer and cover the white ink very well. You do NOT add water for this particular technique.
Highlights can be added with a white gel pen if desired.
This technique is also suitable for cards, so give it a try.




See more examples using the Black Magic technique

View other scrapbook ideas and techniques

Scrapbook Page Gallery

Return to Home Page