Black Magic Embellishments For Your Scrap Pages
I'm a huge fan of the Black Magic technique of colouring stamped images.
Why? Here are just a few reasons.
It enables you to match just about any colour in your layout.
it gives you scope to use bold, strong colour or soft muted colour to achieve different effects.
You can create black borders by cutting just outside the images.
Black Magic is created by printing a solid image inked with White Craft ink, directly onto black card stock. These images can then be coloured with watercolour pencils to obtain a variety of effects. Watercolour pencils work best because they are softer and allow you to work easily within the printed shape. You can chose to leave some of the white showing through, or you can totally cover the white with your chosen pencil(s).
In the examples you'll note that I've worked on both black and chocolate card backgrounds. I imagine you can use this technique successfully on any dark card stock, remembering that a little of the base will usually show through.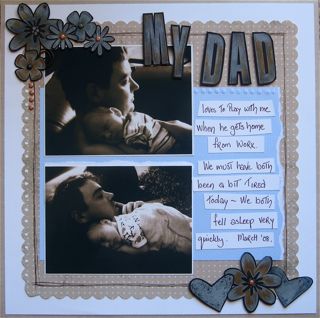 All of the embellishments on the "My Dad" page are made using the Black Magic technique. It can be used on floral images, letters or other shapes. Then cut around the shape and position it anywhere you choose.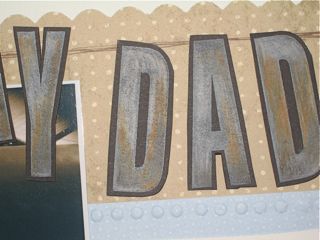 The detail of the lettering shows you how plenty of variety can be achieved within the image. Here, I've tried to give the impression of rusted metallic letters. I've picked up the sepia, grey and mustard colours, and left much of the white background showing through. Note how the strokes of the pencil can be used to assist in creating texture.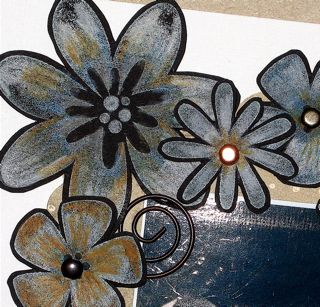 The next detail illustrates how effective it can be to layer images. Layering helps to make your design more cohesive, and allows you lots of creative freedom in placing the individual elements of a design.
Add a little Hodge Podge and an Antique Brad or two, from the Stampin Up range, and your embellished area is complete.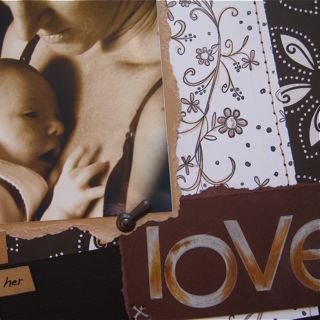 The "Love" example shows you how this technique works on brown card stock. It can be combined with lots of other stamping techniques too. Here you'll see torn paper, Stampin' Around Wheel Scribble that has been hand coloured with a blender pen and classic inks, and Faux Stitching created from the paper piercer and matt pack in the Crafters Tool Kit




Return to Colouring Techniques

Return from Black Magic Embellishments to Home Page