Embellishments Using Rhinestone Brads Add Bling To Your Craft Projects. Ann Craig Uses Stampin Up Rhinestones On Boxes And Cards.
I love using these Rhinestone Brads as embellishments in all sorts of paper craft projects.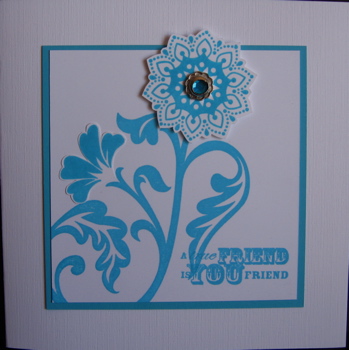 This is a very simple card that I used as a Make and Take at a Scrapbooking group meeting. All the girls bar one, were new to Stampin Up, and I wanted to relate to embellishments, so this quick yet effective card was the result.
I was able to demonstrate a number of different techniques:
- Inking the stamp:
- Stamping Off The Page (ie not all the image on the card):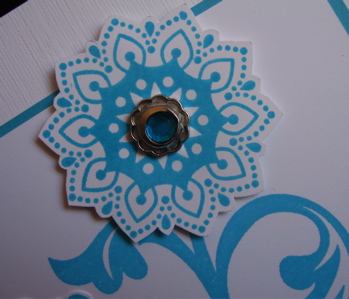 - using the Stamp-a-ma-jig for positioning verse and flower head:
- using Dimensionals to create depth:
- cutting the card stock with the SU paper scissors:
- combining 2 stamp sets together (I used Brocade Basics and True Friend - Mini Catalogue):
- Matting the image with co-ordinating card stock - using Snail Adhesive:
- using Silver Hodge Podge with the Rhinestone Brads:
- and showcasing the lovely Textured Card stock:
That meant lots of techniques covered in a short time.
We also spent a bit of time working with the Stampin Around Wheels - using White Craft Ink on Black card - very popular - then colouring the image with pencils or pastels. For this we used Baroque Border and Leaves a la Carte.
Another of the projects I've demonstrated lately is the stunning Bag In A Box. That is so much fun and all the ladies loved it. They found the process straightforward and the results very pleasing, PLUS the opportunity to be really creative with the embellishments was a great hit.
Here are some of the results: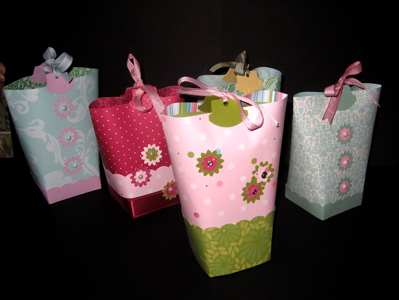 You can see how effective these Bag/Boxes are. If you would like to find out more about how to make them - use the Contact Link at the bottom of the page.
The use of Double Sided Designer Series Papers gives you a wonderful finish inside the bag as well.
Embellishments are fun and quick to make- just use the Boho Blossoms Punch from the Spring Mini Catalogue, or any of the flower punches from pages 142 - 143 in the Idea Book & Catalogue. Punch out co-ordinating coloured card stock or scraps of the papers, layer them and add a brad, a half pearl (from the Pretties Kit) or a Rhinestone. Then attach them with a Dimensional or Mini Glue Dots.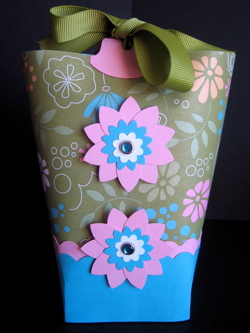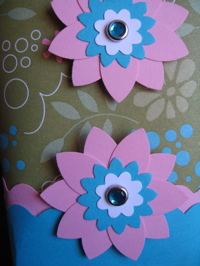 If you would like further information on any of the products used here you can view both the Stampin Up Idea Book & Catalogue and the Spring Mini Catalogue on-line.
If you would like to order any of the products used, or find out more about the projects, then please use the

Contact Me Form


Find out more about Embellishments

Return to Blog entries for more ideas and projects

Home Page