Butterflies On Cards
I've recently been using lots of different butterflies on cards that have a variety of uses. I love that through stamping I can choose a variety of shapes and sizes that are fun to colour, or are adaptable to other stamping techniques, such as the Rock n Roll technique. Here are a couple of recent cards that I've made.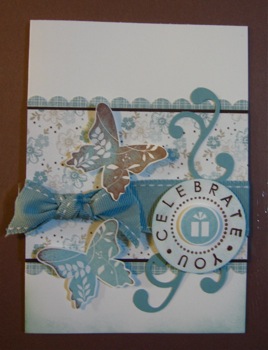 This first card was made for a Stamp A Stack. It was a little time consuming with the cutting out, but everyone loved it - me included. The images on the cards are raised up and inked in Baja Breeze, then rolled in Close To Cocoa.
I've use the fabulous Parisian Breeze Specialty DSP from the Spring Mini Catalogue. It provides great texture, and features Chocolate Chip, Baja Breeze and Kraft coloured images. It is so yummy.
The stamp sets used are "Great Friend" (also from the Spring Mini) and "Party Hearty" from the IB&C and the ribbon is the Baja Breeze stitched Grosgrain.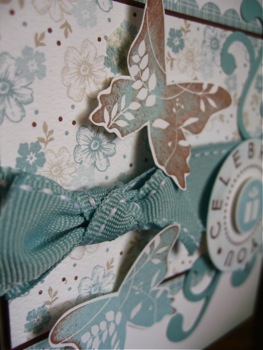 The detail shot shows the various heights of the elements on the card. It is fun to make the butterflies on the card stand up (just put a Stampin' Dimensional" under the centre of the cut out image) and other elements such as the greeting help to balance the composition.
The next style of butterfly I used on a card was for an event I held to raise funds for Breast Cancer research and to celebrate World Card Making Day. It was one of 8 cards, and again uses the quick method of DSP to create a nice patterned background.
This stamp is part of a set I given as a gift on a recent visit to the USA. The entire set is delightful, but I particularly like this image with it's wings stretched out over a box.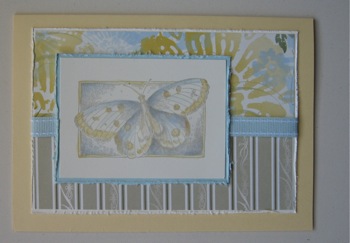 I've used my Aqua Painter to pick up colour from the lid of the Classic Ink Pads as the method of colouring the image. It didn't require too much colour, as the entire card uses soft colours




See other Butterflies on cards and boxes

Contact me to enquire about our Special Stampin Up Opportunity

Return to Home Page