Rock n Roll Your Way To Delightful Origami Box Embellishments
The Rock n Roll technique for rubber stamping is both easy and effective.
It can be used it with a circle scallop punch from Stampin Up, to create delightful embellishments for the top of tiny origami boxes. (Construction of the boxes can be seen in this video tutorial by Kristina Werner)
Choose 2 colours that compliment your patterned papers. Stampin' Up! Double Sided Designer Series papers are an excellent choice - as they ensure the patterns on the top and bottom of the box will co-ordinate.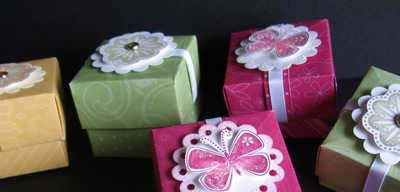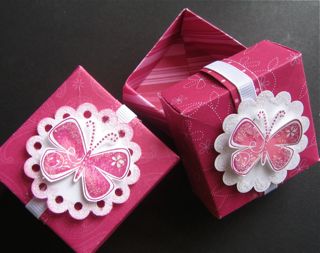 It's simpler to try this technique if you choose a "motif" type stamp like the butterfly from Priceless stamp set from Stampin Up or the stylized flower from the Baroque Motifs stamp set.
Of course any solid stamp is suitable to use, and you'll be able to create lots of different effects, depending on the choice of colours.
It's a good idea to start out with harmonious colours so the contrast won't be overpowering. Also be aware that if you choose complimentary colours, that they will neutralize when one colour is laid over the other. That simply means that the colours will pick up a brownish, neutral tone.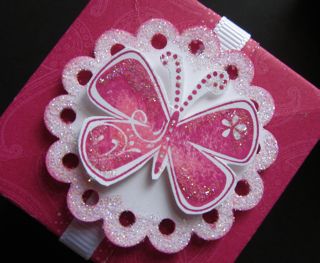 You might be disappointed, so always experiment on scrap paper when overlaying colour so that you know what the outcome will be.
You can see the subtle variety that can be achieved using this technique. Add a little Dazzling Diamonds glitter or choose a coloured Rhinestone Brad for the final touch.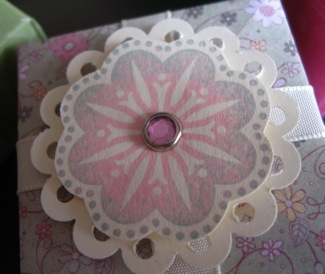 Each of the motifs was cut out and raised up on a dimensional. (You'll find using different heights with motifs is a great way to create interest in you hand stamped projects.) One of the circles has been punched with the Cropodile to create more of a filigree effect. The edges were sponged with a little ink and then a 2 way glue pen and some Dazzling Diamond added the finishing touch.
Do you have some great examples of Rock n Roll stamping that you'd like to see published on this web site? Contact me for further information.




See more examples of the Rock n Roll technique

View the Stampin Up Catalogues on-line

Find out how to save on your Stampin Up purchases.

Home Page