How To Emboss, Bleach And Build Dimension In Images For Your Unique Scrap Page.
The task for this scrap page was to emboss embellishments using a Stampin' Around Wheel, Versa Mark and Embossing Powder. The rest, that is the bleached images, just happened.
The photograph is from a party held at a local garden centre and restaurant, so the Butterfly wheel was an appropriate choice. It provides variety in size of images and great outlines that create wonderful shapes.
Let's look at the page.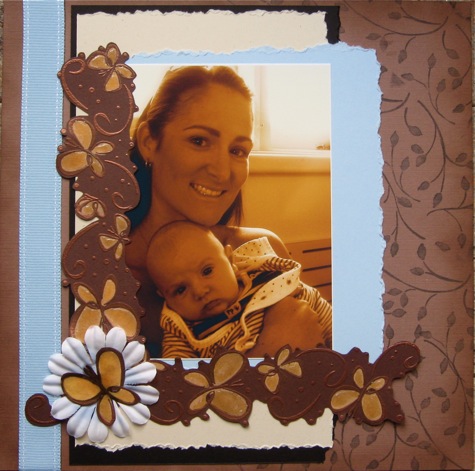 I've used Stampin' Up Close to Cocoa card stock as the base for this scrap page, and created background interest by rolling a vine wheel across the Right Hand Side of the page.
HINT - to achieve a less rigid definition of the wheel width, roll the image in a diagonal line, rather than in a vertical line. Have a little practice on a sheet of card stock first and you'll see how much better the patterning looks when applied diagonally.
The butterfly wheel was rolled onto Chocolate Chip card using Versa Mark ink. You can either make your own Versa Mark ink cartridge by purchasing a black cartridge and using a re-fill bottle of Versa Mark, or you can use the Versa mark pad and simply roll the wheel over the pad. Either way be sure to get a good coverage on the image on the wheel. Don't forget to swipe the page first with the Embossing Buddy to negate static on the card stock.
NOTE - when using the ink pad you will only get one revolution of the wheel, so you will be limited in the length of pattern you can create. This usually equates to about 15 cm.
Cover the Versa Marked image with embossing powder, shake off the excess and heat with the Heat Tool until the embossing powder is melted.
I wanted to lighten the images of the butterflies to firstly make them stand out a bit more, and secondly to spread some of the lighter Sepia colours from the photo throughout the page design. I've been doing a bit of bleach work lately, and have learned that Chocolate Chip bleaches to a yellow base, so thought I'd test painting bleach on a scrap. The embossed outline creates a great barrier so you can apply lots of bleach and get quite light colours. It was a little too light, so out came the Crystal Effects medium to both add dimension, shine and hopefully a little more depth of colour. I was delighted to get an almost perfect match. You can see the outcome of this experiment in the detail photograph of the scrap page.
You can view the current Stampin Up 2009 - 2010 Catalogue here

Like more information on any of the techniques? Contact me.

Get all your stamping and scrapbook supplies for 20% discount

Return from this Scrap page to the Home page
---