Make A Male Birthday Card Or Two
We recently celebrated a unique male birthday in our family. Unique because he is the only man in the family (until the sons-in-law came on the scene, that is) and also because it was a milestone year. DH received two hand-made cards. One from me and the other was made by my daughter and her 18 month old son.
Here is the card made by my daughter.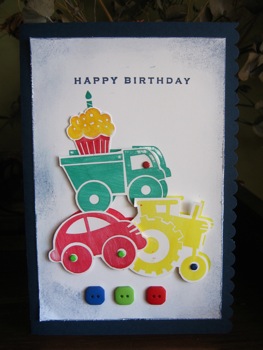 I love how she has used primary colours to achieve a bright and happy card. Grandpa loves trucks and has a sizable collection of trucks and cars, so with that in mind - this is the result.
The use of buttons and brads from the Bold Brights family add texture and interest to the card. Also note the way each vehicle was stamped directly onto the card and then a replica was added over the top, raising it a little with dimensionals. This gave room for the Birthday Cup Cake cargo.
The finishing touch is the scalloped edge achieved by punching the card with the fabulous Scallop Edge Punch.you can see this well when you look at the angle shot of the card.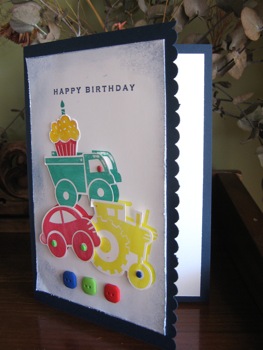 My card is more about patterns - using the Designer Series Papers to create interesting backgrounds and focusing on some words.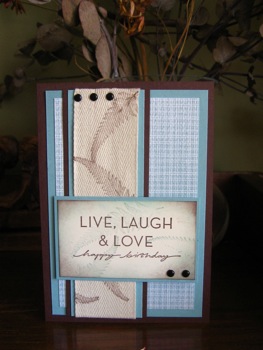 The DSP used is from my current favourite. Parisian Breeze Specialty DSP. You'll find it on page 9 of our Spring Mini Catalogue (2009).
The colours (Baja Breeze, Chocolate Chip and Kraft) lend themselves to male cards, the papers are slightly heavier in weight and have some nice texture to them.
I've used a technique that I'm currently enjoying a lot - that is stamping directly onto Twill Tape. For this card I used Basic Brown as it is permanent, and I wanted a muted impression of the fern fronds. This relates back to DH's previous profession as a Biochemical Botanist where I recall many years ago, searching through forests looking for some elusive ferns growing on the trunks of gum trees! I highlighted the centres of the fronds a little with a Chocolate Chip Marker and used brads from the Vintage Brad range to add a little masculine embellishment.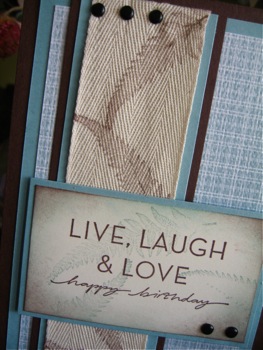 If you'd like further information on techniques or products used in these cards you can contact me
I'd love to hear your comments on these cards.




Comment

See how you can save 20% on all your Stampin Up supplies

Go to Home Page from Male Birthday Card page