Hugging You Better
by Linda Lucas
(Canberra)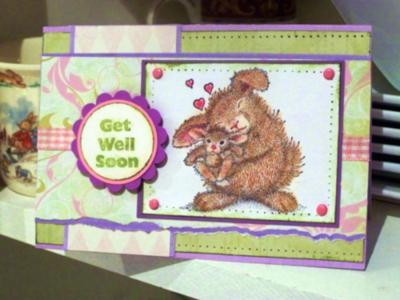 Aww - Cute!
This card is made for a little girl who has undergone 3 Open Heart surgeries in the past 3 years and has just had surgery on her lungs - I wanted it to be waiting in her room when she gets home.

Who wouldn't love these happy Hoppers by Stampibilities!! They have been chalked with SU Pastels/Chalks and a SU blender pen. The edges of all images have been inked with SU Inks and then paper pierced - I used to use a ruler for measuring paper piercing BUT have not looked back since getting my SU MAT PACK - it makes it so easy and takes the guess work out of it - I am a convert to this tool!!

I do not have the exact SU colours but have gone as close as I can! I just couldn't wait to do Ann's Colour Challenge - these colours are so lovely together - makes it easy!! Thank you for looking!