The Emboss Resist Technique Enables You To Create Interesting And Dynamic Projects With Your Rubber Stamps.
The Emboss Resist technique is such a fun way to create quick "all over" patterns, or to stamp motifs that stand alone.
Here is an example of the project we did at last night's workshop - a very simple card that lends itself to many different stamp sets.
This set is Simply Said from Stampin' Up! It is a 2-step stamping set, but I used both the base and outline stamps as the basis for the design.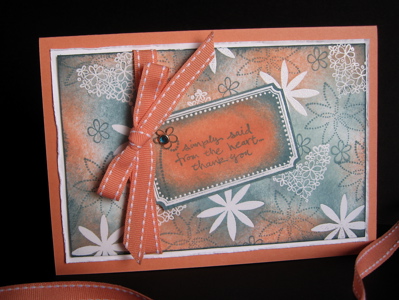 I have used card, ribbon and inks from the 2008 - 2009 In Colour Range.
The colours are: Soft Sky, Groovy Guava and Blue Bayou. You may notice that the Guava and the blues tend to neutralize each other in some areas where they have overlapped, creating a soft greyish colour.
Now for the method used for the Emboss Resist Technique.
Take a Whisper White piece of card and rub over with the Embossing Buddy. Ink your stamp with Versa Mark, and stamp randomly over the white card. Sprinkle Clear Emboss Powder over the page and tap off the excess.
Heat images with Heat Tool. Starting with the lightest colour in your range, randomly apply the ink with a sponge - remember to squint at it if you are not sure about your tonal distribution. Buff over the stamped area with a paper towel or tissue, to remove any excess ink off the embossed areas. Complete your design by again randomly stamping images in one of the darker colours in your range. Make a tag, attach, tie Double Stitched Ribbon from the In Colour range and add any embellishment you choose. Matt your patterned piece of card with a plain colour and then adhere it to the base card.
Here is another card I tried - this time using Groovy Guava as the base colour card.
I planned to try to make the card look leathery through my choice of colours. The emboss resist technique raises parts of the image, so it is an easy way to get dimension in your work without too much hassle.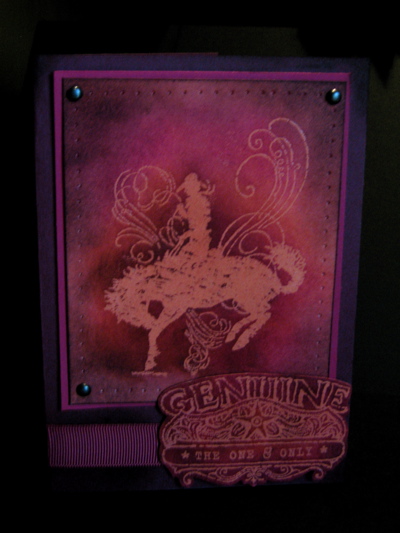 The colours I have used here are, Groovy Guava, Purely Pomegranate and Bravo Burgundy.
If you would like more information on the products or technique used in these projects please contact me to learn more about the Emboss Resist Technique
You can browse our very comprehensive catalogue on line. here
I am sure you will find lots to interest you.
If you wish to find out more information about my classes or in-home demonstrations, I will be pleased to assist.