Textured Background Using Your Stampin Up Crimper.
This is a wonderful technique that lends itself to many possibilities. I learned the technique from a talented demonstrator in the USA on a recent visit. I was lucky enough to go to a workshop/class where she taught 5 new techniques - bliss. Thanks to Cathy for sharing your talent.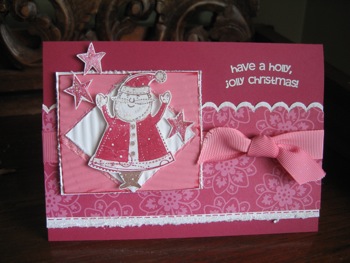 This is a sample of a finished card using the crimped background technique. You'll notice that the lines made by the crimper go from a central diamond shape at different angles. This is all done with folding the card before it is threaded through the crimper.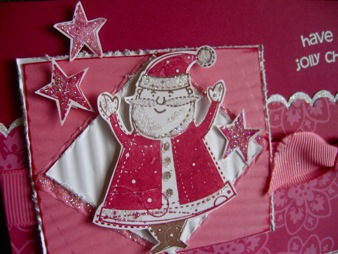 The detail shot shows how I've added another crimped piece over the top of the original background. This was simply to highlight the shape of Santa who could have been a little lost with all the pink!
I've added some sparkle to the stars and Santa's beard and mo. The greeting is created with White Embossing Powder and Versa Mark Ink.
I've had a couple of requests asking how to make this background, so here is a brief tutorial for you.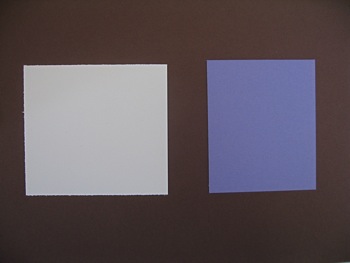 Cut some card stock in a rectangle or almost square shape. Note Square does not work so well for this technique)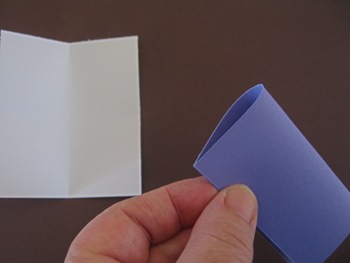 Bend the card stock and pinch at both sides to mark the centre of the side. Do this on all sides. You may prefer to measure each side to ascertain and mark the centre point of each side.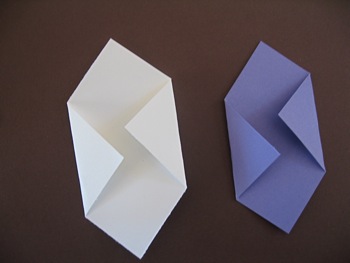 This part is important. Using the marked centres of each side as the guide, fold the card as shown in the photo. NOTE: the corners of the card DO NOT MEET IN THE MIDDLE.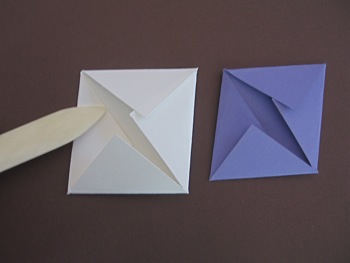 Fold the other two sides in and you should have a diamond or kite shape. Note that the folded sides overlap each other a little and there is a space in the middle.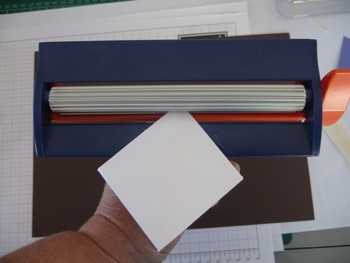 Thread one point of the card into the crimper and slowly wind the handle. I find the crimping is stronger if you wind the handle slowly.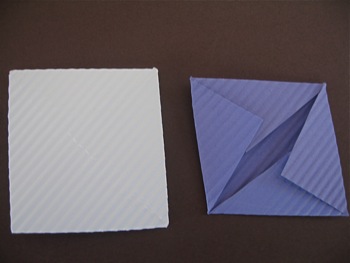 A view of the "crimped" card (front and back).
Unfold the card and see the variety of directions the line travel in.
You may want to trim your edges as they will be a little uneven, or you can distress them as they are.
There are a number of creative ways you can use this method, and I don't think size is an issue. So try big ones, little ones and medium ones, create something and

share it with us all.


Try some other stamping techniques

Find out special information on becoming a Demonstrator - Join my team - it is fun!