Collage Stamping with the Artistic Etchings Stamp Set from Stampin' Up!®
I've wanted to do some collage stamping for a long time and when Stampin' Up!® released this wonderful new stamp set - Artistic Etchings in the new 2010-2011 Idea Book & Catalogue, I knew I had to have it straight away.
Ah the romance of Paris! That to me meant red, black and white were the obvious colours to choose, but I'm sure many of you will imagine other colour combinations that evoke the same feelings.
Now what is collage? It can be described in a number of ways -
1. (Fine Arts & Visual Arts / Art Terms) an art form in which compositions are made out of pieces of paper, cloth, photographs, and other miscellaneous objects, juxtaposed and pasted on a dry ground
2. (Fine Arts & Visual Arts / Art Terms) a composition made in this way
3. (Fine Arts & Visual Arts / Art Terms) any work, such as a piece of music, created by combining unrelated styles[French, from coller to stick, from colle glue, from Greek kolla]
...so while I have not glued additional bits within each panel, I certainly have juxtaposed the images. I do belive however that the entire creation is a collage of different colours and images.
What do you think?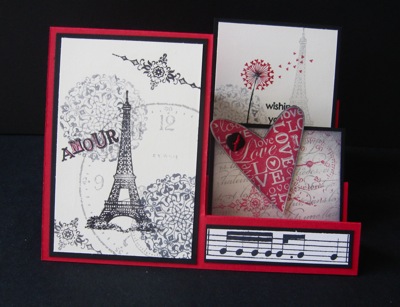 I've used a number of stamping techniques, as well as 2 different stamp sets and some Designer Series paper- the new "Newsprint" that is in the 2010 - 2011 Idea Book & Catalogue. (I know you'll love it so contact me if you'd like to purchase a catalogue) Oh yes, you need to live in Australia to do this!
Now for some info on the Stampin Up products I've used for this fun project.
Card stock: Real Red, Basic Black, Whisper White.
Inks: Basic Black, Basic Gray, Real Red.
Stamp Sets: Artistic Etchings, A Happy Heart (retiring)
Here is a detail shot showing how I've done some Stamping Off to obtain the various shades of gray. I've also use a blender pen to add red to the "Amour" and I've use my Stampin Write Markers to colour direct to rubber on the dandelion image.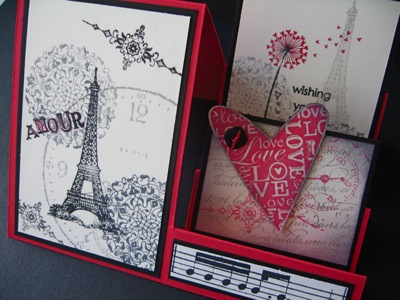 As always, if you'd like more information on any techniques or products I've used contact me and I'll do everything I can to assist.




Get great bargains that can be used in collage stamping

see other examples and the latest Stampin Up Promotions at my Demonstrator Business Web site