Create Lovely Cards Using Silhouette Style Rubber Stamps
Creating cards and scrap pages with silhouette style stamps is an easy intoduction to creating stylish craft projects. There is no colouring of images involved and you have the option of a using a variety of techniques that work extremely well with this style of stamp, to create interesting backgrounds.
The first option, and one that is perhaps the best to start with if you're new to rubber stamping, is Stamp onto contrasting coloured card stock.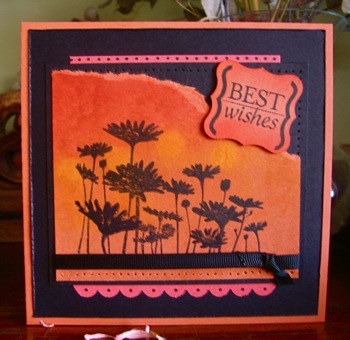 You may decide, as most people do, that BLACK is perfect for stamping the image. We all associate black with silhouettes and it does produce a strong graphic image on most colours. Don't be restricted to black though, as you can make some delightful cards using different tones of the one colour, such as purple on mauve, maroon on pink, orange on yellow. The choice is entirely up to you.
You'll find that making choices, and changing colours will enable you to create a number of different cards in a very short time.
This card uses Black Stazon Ink for the daisy image. I created the background first, and it was fun using a number of different stamping tools to achieve the variation in colour.
Starting with Really Rust card stock from Stampin' Up, I used a brayer (roller) to roll Really Rust across the top of the card, Then I rolled on some Ruby Red and Creamy Caramel. A few drops of Summer Sun from a Re-Inker Bottle looked like a big mistake at first, but a quick spritz with water from a spray bottle and the inks started to look more interesting.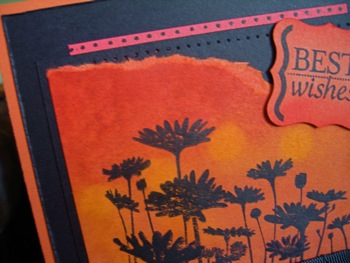 Don't be surprised if you try this technique for the first time and your card starts to curl quite severely. Just dry it off with a heat tool (used for embossing) and flatten it with your hand. As the card dries, an interesting mottled background with higlights of lighter colour will start to develop in front of your eyes.
There's always a bit of serendipity in this technique - and that just adds to the fun!
Next, when the card is dry, ink up the stamp and print it over the chosen part of the background. Matt and embellish as desired.
You can create any shape or size of card you wish. The first card is square, and the second one, a regular A5 rectangular card, uses different techniques.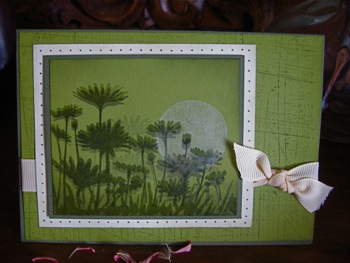 When you first look at this card you may think your eyes have gone out of focus. That actually is a technique I've used to try to create movement. It involves Stamping Off which is where the stamp is inked up and stamped on the card, then re-stamped (without re-inking) slightly off the original image. You'll achieve two tones of the one colour, and instantly create depth in your work. Because I wanted to add the moon rise, I clear embossed the images, punched a circle into some computer paper to create a mask, then sponged with Craft White over the top.
I'll add a few more visual examples of other silhouette stamps in the near future, so if you like this style of stamping, bookmark the page and refer to it later.
See examples of other rubber stamping techniques

Browse the Stampin Up catalogue for all supplies used in these cards

See how you can purchase all your Stampin Up supplies at 20% discount.

Return to Home page