The First Of My 2008 World Card Making Day Events Took The Format Of A Stamp A Stack
What fun we had at the first of my 2008 World Card Making Day events. I am holding 2 this year- both in aid of Breast Cancer Research, and here are some of the wonderfully creative cards that were made. Needless to say we didn't get 20 cards finished, but everyone got enough done to be able to take the packs home and finish them at their leisure.
Cards for a stamp a stack are supposed to be quite simple, but the guests at this event wanted to "go the extra mile", and who am I to stop them?
World Card Making Day is an event where we celebrate creativity and the joy of card making, so to me it's far more important to have a relaxing, creative time than it is to churn out heaps of cards.
We all found the Christmas cards quicker than the "birdie" cards, but I am thrilled with the results.
Here are a couple of the Christmas cards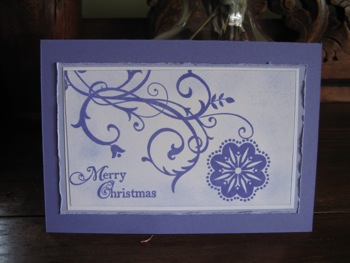 This card uses the very beautiful and versatile stamp set "Baroque Motifs" from Stampin Up.
I made up 5 packs for the participants, each pack holding supplies for 2 cards, and each pack being made from one of the Stampin Up Colour families, plus the 2008 In Colour range. Of course Whisper White or Very Vanilla were included. Those two are just so smooth and enable you to achieve perfect images.
Here is another card.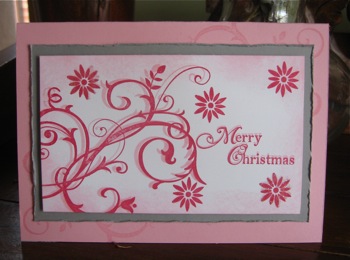 Notice how shadows have been achieved by first stamping with Pretty in Pink, then positioning the next layer of images using the Stamp-A-Ma-Jig, and stamping with Rose Red. Some sponging to soften the edges and a bit of distressing around the matt (frame) edge, complete the picture.
The next card adds a little glitz by using the 2-way glue pen and a sprinkle of Dazzling Diamonds.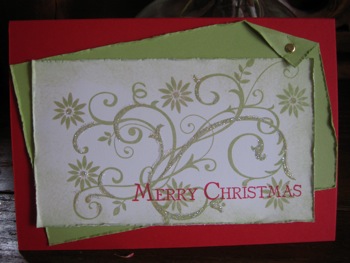 Simply by altering the angle of the backing card (matt) you can create a very different card.
The next lot of cards for this World Card Making Day Event use the Hostess Free set Spring Solitude Bundle plus any and many accessories.
I love accessories, and enjoy sharing them with my friends, so it is always interesting to see how they will use them. Here are some results.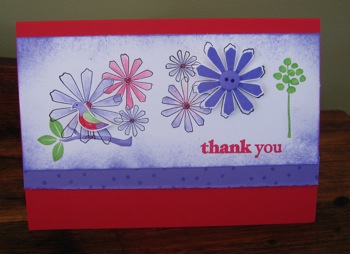 This card is made using card from a Bold Brights pack. Stampin Write Markers were used direct to the rubber on the stamp to colour the "birdie".
The purple stylized flower and the bird were both lifted off the page with Stampin Dimensionals and a button from the Bold Brights Button set was attached with a mini glue dot. Of course I used the wonderful Paper Snips for cutting out the bird and flower.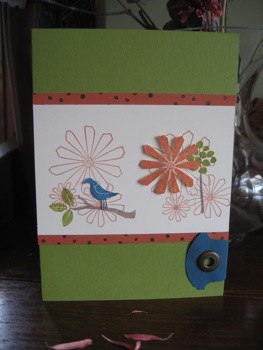 Note here how different the card can look using some additional techniques like sponging. Note also, the very different feel obtained by the different colour ranges in the 2 cards, even tho' the same stamp set has been used.
The Round Tab Punch lets you make tabs easily and quickly and the wonderful Cropodile means you'll never have to worry about punching holes in the exact place or setting any sized eyelets.
When you change your colours you get a very different card.
If you'd like to learn more about colour choices and their visual reactions, you can follow this link.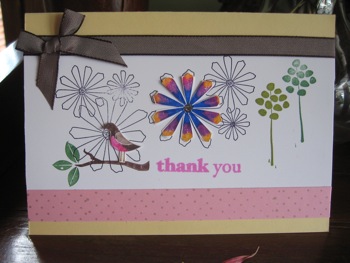 For further information or technical advice, you can contact me here.
Stay tuned for some more examples from the next World Card Making Day event to be held on Sunday 12th of October.


---
Discover how you can always save 20% on your stamping and scrapping supplies

Go from World Card Making Day Event 1 to other community events.