If You're Searching For Relaxing Stamping Techniques To Use In Scrapbook Layouts, Try Water-colouring With Dye Ink Pens To Add A Splash Of Vibrant Colour To Your Stamped Images.
Knowing a variety Rubber Stamping Techniques opens up a whole new world of creative opportunity for you.
No longer will you need to search shops for embellishments that are the right colour or theme. You can make them yourself- thus adding a really unique aspect to each of your scrapbook pages.
You can co-ordinate the colours of the embellishment(s) with the papers you have chosen, and more often than not, you can make embellishments that really connect to your photos.
Have a look at this latest scrap layout. It is the result of another of the fun BAL (Build A layout) Challenges run by Jill from
In the detail photos, you can see how well the colours co-ordinate with the circles punched out of card. That is one of the great advantages of using Stampin' Up! products. Everything has the potential to match. I love haw easy that makes creating my own embellishments.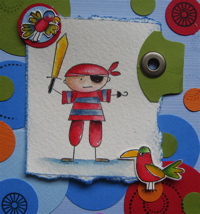 Each of the images that I've painted has been stamped onto water colour paper using Stazon permanent ink. I then used the Stampin' Write Markers and an Aqua Painter to colour the image in colours that matched clothing in the photos and the card stock. The ink in the Markers is the same dye ink as the ink pads. Again a great advantage when matching colours.
This stamping technique is adaptable - you can create flat areas of colour or you can create depth through shading. I've used both techniques here. The birds are quite flat but the "Little Pirate" has some shading on his face, shirt and pants.
The next detail image shows blending on the treasure chests, and illustrates how well matched the colours can be when you have 48 basic colours to choose from.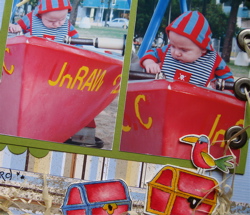 When you consider that the water colouring technique enables you to mix colours, you'll realize that your embellishments and colours need never be mis-matched again!
You have an unlimited palette at your fingertips in the form of the Many Marvelous Markers. Once you see and use these - you will want them. You can see them on pages 128 and 150 in the Stampin' Up! Idea Book & Catalogue.

They are a wonderful investment. The handy storage box is fully labeled so the colours don't get mixed up. It also provides a compact and safe way of storing your precious markers on their side - the correct manner of storage to ensure longevity of use. And you have access to many stamping techniques from one little box of markers.
Apart from the water-colouring technique, they can be used directly onto rubber stamp images to achieve multi coloured stamped images. They are also great for journalling as each pen has a brush end and a journalling end.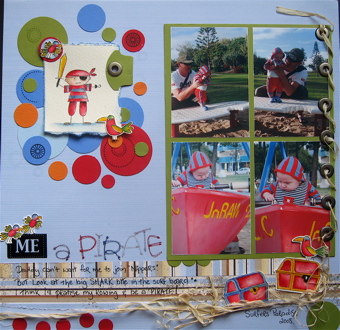 Some of the other Stampin Up products I used on this page are:
12 x 12 textured card stock
Double sided Designer Series Paper
Jumbo Eyelets
Various sized circle punches
Round Tab Punch
Dimensionals.
Black Journalling Pen
Here is the full layout. The technique is quite straightforward. You do need water colour paper for the best results. Stazon or Basic Black, Bown or Grey can all be used for the outline image. Select the colour marker you want and draw a little colour near the outline of any given shape. Use the Aqua Painter to blend the colour towards the centre of the shape. It's best not to let the Marker ink get too dry or you will be left with definite lines - just work on small areas at the one time.
As with any new technique, be prepare to practice a little on some scrap paper, until you get the feel of it.
HINT - Keep a wad of paper towel beside you to blot up any excess water from the Aqua pen, and to clean the tip of the pen when you're changing colours.
If you would like to see more ideas for watercolouring with Dye Ink Marker Pens, visit this Stamping Techniques page

Contact me to order any of the products you see featured on this or any other page on my site.
You can also use this link if you would like further information on any of the stamping techniques featured.
Follow this link for more examples of this great technique

View other Stampin Techniques

Find out how YOU can save on all your stamping and scrapping supplies

Return to Home Page