Stamp A Stack Classes
Stamp A Stack classes are a great way to create enough cards so that you are always prepared for every occasion. The idea is to create a number of cards (usually 4 - 5) of the same or a similar design and create them in something like a mini production line.
This week I had a group who wanted to make 5 Male and 5 Female cards, so I decided to try two different methods.
Now I always have problems keeping things simple - I tend to want every card I make an individual work of art, and this concept just does not work when you are "mass producing" cards. So I decided I'd pre-cut all the bits and make up a few different variations to illustrate how you can use the same elements to create different results simply by placement and alignment of the base card.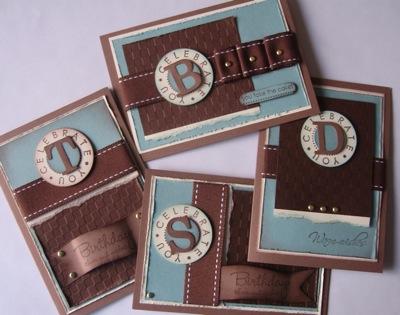 Two of the cards are in landscape format and two are portrait format. Each of them uses exactly the same elements with the exception of the Letters (which are customized to suit the name of the recipient) and the amount of ribbon. Quite a variety isn't there?
The colours and products I've used are all Stampin' Up! - I love the quality and the coordination of the products is just so good! Main colours used here are Close To Cocoa, Baja Breeze, Chocolate Chip and Vanilla. The BIG SHOT gives brilliantly cut letters - you can purchase this, plus a wide variety of accessories including the Alphabet, from our Autumn/Winter Mini Catalogue
The Female cards I decided to make using some different background card colours, different embellishment colours and different ribbons. This made constructing the cards much more time consuming and I probably would not do this again. I enjoyed the outcome and so did the class members, but the additional time required made this impractical. Anyway here are 4 of the cards made - you can see the similarities, but there are lots of differences too.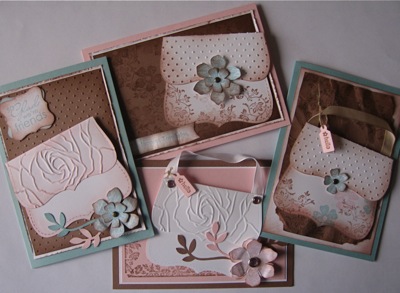 The products and colours I've used are:
Big Shot die cutting machine, Top Note die, Perfect Polka Dot embossing folder, Manhattan Flower embossing folder, Vintage Vogue Clear Mount stamp set, Extra Large 2-step Bird Punch, Close to Cocoa card and classic ink, Pink Pirouette card stock and classic ink, Baja Breeze card stock and classic ink, Curly Label Punch, Vintage Brads, Rhinestone Brads - circle Fire.
Starting July 12th 2010 I will be conducting Stamp A Stack classes in my studio. Everyone is welcome. Class size limit is 10, cost is $20.00 for 8 cards. Times: 7.15 for 7.30 start and you only need to bring yourself plus adhesive. Everything else supplied.
If you live in the Canberra area and would like to attend please contact me via

my Demonstrator Business Web Site


Create your own Stamp A Stack examples for 20% discount