Stamp A Stack Of Christmas Cards
Stamp A Stack of Christmas cards to boost your supplies of hand made cards. You'll be ready in plenty of time to post them and you'll find this method an easy way of creating lots of cards with minimum effort.
At my recent Stamp A Stack event we made 10 cards in approximately 2 and 1/2 hours. Usually participants make 5 each of 2 designs that are pre-cut and ready to assemble. A type of assembly line is set up where each task is repeated 5 times and then the elements of the cards are put together at the end. This of course saves time.
Here is the first card design...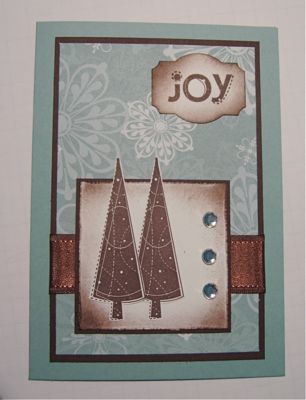 Colours used in this card are Baja Breeze, Chocolate Chip and White. I've also used some of the gorgeous paper from "Ski Slope" designer series paper pack. This is available for a limited time from the Spring Mini Catalogue so if you love it like I do, you'd better get some quickly as it will be off the market at the end of November.
The stamp set is A Holly Jolly Christmas. The tree image in this set, immediately appealed to me, and as I use it more I'm finding lots of different ideas and fun projects to create with both this stamp and the other stamps from the set. I've also used the Designer Label Punch with a little sponging around it.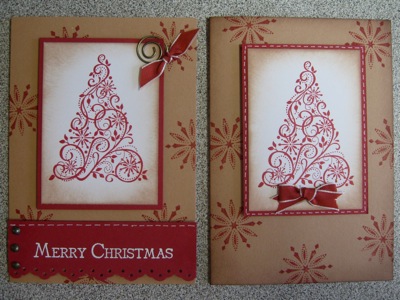 The second set of cards use Creamy Caramel, Riding Hood Red and Whisper White card stock, Riding Hood Red and Versa Mark ink and White embossing powder.
These pictures show you how easy it is to slightly change the position of the card elements to create different cards. For these two I've just added a little Riding Hood Red Taffeta ribbon. The White Gel Pen is used to add some faux stitching and a piece of Hodgepodge creates a feature in one corner of one card.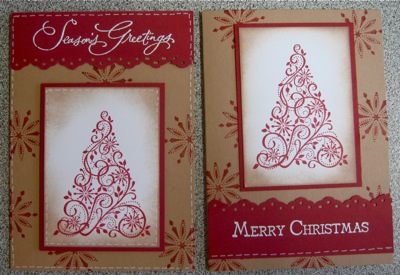 Change the position of the greeting, turn the scalloped edge up side down, or leave it off completely. All these subtle little differences make each card individual.
If you would like further information about the classes I offer, please

contact me here.


See other Christmas card ideas

Would you like information on becoming a Stampin' Up! demonstrator?

Return from Stamp A Stack of Christmas Cards to Home page