"Wild About You" Scrap Page With An Accidental Embellishment - Here's How To Create Your Own Accident!
I am a bit of a novice when it comes to making a Scrap Page, but since I am a new grandma, I thought I would give it a go.
My daughter sent me this beautiful photo of Tyler - I loved the colours in it and immediately thought I could match them with some of my Stampin" Up! colours and card stock. To my delight they did match perfectly with Ballet blue, Pumpkin Pie and Ruby Red.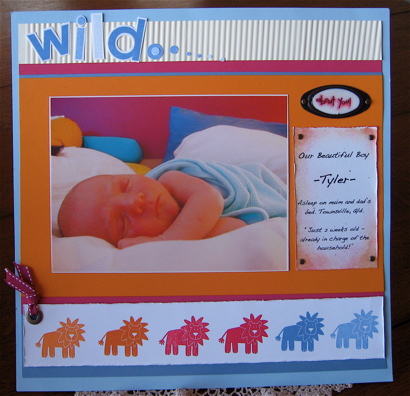 I had a new crimper from Stampin Up, and as I love a bit of contrasting texture on all my craft work, I decided to use that as a background for the page title.
I stamped the "Wild" title using Ballet Blue, and got the different tones of the colour by repeatedly stamping the letters without re-inking. I then cut them out and glued them to the corrugated white card stock. I used a variety of punches for the dots, and punched out the circles from some of the left over stamped-off letters.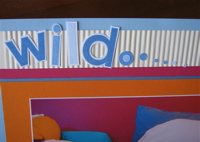 The Lion embellishment across the bottom of the Scrap Page again uses the repetition stamping method. By doing this I have achieved 2 tones of each colour.
This area was finished off with one of Stampin' Up!'s new Jumbo Eyelets, and I used the fabulous Cropodile to set it in place.
A little bit of double stitched ribbon helps to combine the reds throughout the entire Scrap page.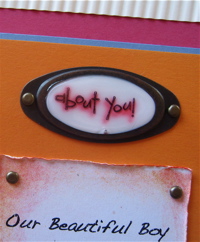 I am a fan of the wonderful Hodge Podge Kit available from Stampin" Up! so thought I would add a little metal higher up the page to balance the Jumbo Eyelet below.
This is where I thought I goofed really badly, but ......
I stamped the words "about you" in Ruby Red, cut them out and glued them into the metal shape. It didn't look quite how I wanted, so I thought I would make a faux gel by filling in the entire area with Crystal Effects. As soon as I had done that I knew it would smudge badly because of the ink having a water base, and thought I had ruined the whole thing.
A good nights sleep does wonders, and the next morning, I decided to try stamping over the top of the crystal effects with Stazon Ink.
I used the wonderful and ever useful Stamp-a-ma-jig to align the stamp exactly where I wanted it, and hoped for the best.
I am really happy with the result and will be using this technique in future Scrap pages.
If you would like to know more about this technique you can contact me to learn about this Scrap Page embellishment.
You may wish to order some of the products I used, or join my email list.
I am happy to assist you in any way. All you have to do is fill out this form and I will reply to you.
If you would like to find out more about the Stampin' Up Demonstrator Opportunity and joining my "distINKtive designs" stamping group, firstly view

this page on my website

---