Create This Scrap Page Using Rubber Stamps, Patterned Paper, Rub-ons And Hodge Podge hardware From Stampin Up. By Ann Craig, Stampin Up Demonstrator.
This scrap page is my solution to another of the fun and mysterious BAL Challenges from Aussie Scrapbooking. As I become more familiar with scrapping, I am starting to use a bit more creative license, and find the solutions are quite satisfying.
I try to use Stampin Up products wherever possible, and most times I find that the quality of the SU papers and accessories are so good that I don't like using other bits and pieces.
I have used lots of techniques on this page, and I am happy with the outcome.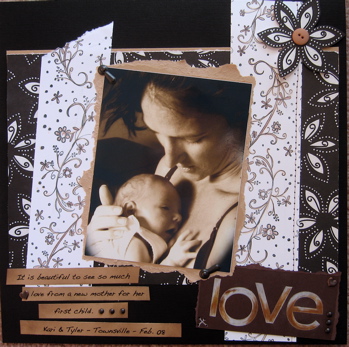 Images copyright 1990–2008 Stampin' Up!

Currently my most favourite pictures are printed in Sepia tones. I love the softness, and find it quite easy to tweak the colours a little in my iPhoto program so that they take on any hue that I want to work with.
Stampin Up products I've used for this scrap page are
Scribble wheel
Big Deal Alphabet
Ink Pads -Creamy Caramel, Close to Cocoa, Chocolate Chip, Craft White
Card stock - Whisper White, Creamy Caramel, Chocolate Chip, Textured Black
Blender Pens
Crafters Tool Kit,
HodgePodge hardware
Water-colour Pencils
Buttons - Earth Elements.
The black and white floral paper is not Stampin' Up! but I thought it matched the Scribble wheel so well I just had to use it.
I discovered a few new ways of doing things in my quest to make this page look both old and new. The first was determined by wanting a torn edge around the photo, but also wanting the edge to frame the photo exactly. I don't own a tearing edge, so I just laid my cutting ruler against the edge of the photo and tore. It worked really well, giving me a sharp edge where the paper was against the ruler, and tearing a layer roughly away from the other edge. You can just see what I am describing in the detail photo.
I still need some practice using my Craft White ink, and found that the title printed quite unevenly and looked a bit amateurish. Then I remembered the Black Magic technique where you can use watercolour pencils to colour over the white ink, and thought I would give that a try. There was nothing to loose as the title had not been attached to the scrap page.
What do you think?
It looks like old letters that are rusting to me, and I am happy about that.
The other techniques I used are: Faux Stitching and Blender Pens and Inks (to add a little aging to the Scribble wheel pattern.)
If you would like to view more of Stampin Up's products you can see the entire range in the Idea Book and Catalogue.
The Stampin Up range is extensive and covers Stamp sets, accessories, ribbons, punches. patterned papers and card stock - everything you need for great scrap pages, cards and other paper craft items.
If you would like more information on any of the techniques I've used on this scrap page

contact me for more information.
---
View other scrap pages here

search the blog index

Return to Homepage