Another Scrap Page Made From A BAL Challenge At Aussie Scrapbooking. A Great Way To Learn About Layouts And Embellishments.
This scrap page is my solution to the second Build A layout Challenge from the Aussie Scrapbooking website and I'm feeling like I'm starting to grasp some of the concepts behind this fun past time.
I'm really pleased to be able to use lots of my Stampin Up products, and I can't wait to start showing my customers how well these products work on Scrap Pages as well as for cards and OTP items. But best of all I am starting to scrap photos of my adorable little grandson. I never made time when my girls were young - working full time, plus loads of other activities, meant I missed out on creating albums for them. I plan to catch up for lost time (and fun) now.
Well here it is - Tyler - about 9 days old with Stu (grandpa) about ....years old. Are men fussy about who knows their age? Not sure, but if I tell his age then everyone can guess mine! I found it quite amusing that one so young could have a forehead the exact replica of his grandpa - right down to the wrinkle pattern.
One of the exciting things about a BAL Challenge is that you never quite know where the scrap page is heading. Lucky for me I have a room full of bits and pieces and am quite used to adapting to suit the situation. I did struggle with the "doodling" a bit, but am happy with the way it turned out.
Some of the products from Stampin' Up! I used are: 12 x 12 Really Rust textured card stock; "Round Up" Simply Scrappin' Kit, Earth Elements and Neutrals Buttons; On Board - Lots of Letters; "By Land" stamp set; Sanding Block; Chocolate chip Stampin' Write Marker; Mini glue Dots and Snail Adhesive.
You can find these items in the
Stampin' Up On-line Idea Book and Catalogue
Have a look through the catalogue - you will be amazed at the comprehensive selection of high quality products.
Jot down a wish list and contact me if you would like to host a scrap page workshop or place a catalogue order from you and your friends.
You may just have some technique questions - I am always happy to help.
The first detail shot shows the little truck. I constructed it by stamping the truck 3 times on Vanilla card stock; once each in Chocolate chip, Really Rust and Creamy Caramel. Then I just cut out bits to raise up for a bit of dimensional effect. The frame was made with some of the self-adhesive strips from the Round Up Kit.
Now you might wonder why I put a truck on the page. You can't see it, but Tyler had a little truck on his T-shirt, and grandpa Stuie just looooves trucks!
The second detail shot shows what I came up with for the "doodling" part of the challenge. "Doodling" usually means swirly curvy lines to me, with the odd sharp, straight line appearing once in a while. It is a subconscious form of expression that was quite difficult to plan. I decided to keep the star and button theme going and added a few circles and lines too.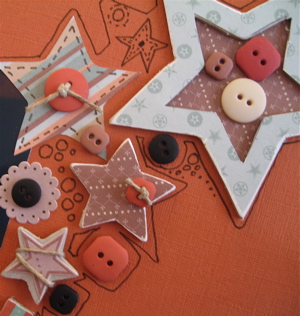 If you would like to have a look at, or try the Build A Layout Challenges from Aussie Scrapbooking click on the logo below. You are sure to find something interesting. They have competitions and lay out ideas, galleries and lots of links to other scrapping sites.
STOP PRESS
Stampin' Up! have just announced the July special and it is a terrific one for those of you who have been toying with the idea of joining my team.
$25.00 off the cost of the Starter Kit
Contact me today for further information, and maybe a little extra something!!!. You'll love what I can offer you this month.



Learn how to scrapbook even if you are a beginner.

See more scrap pages in the gallery