Card Examples Using The Rubber Stamping Technique Of Watercolour With Markers
Since becoming a Stampin' Up! demonstrator, I've been able to learn lots of new Rubber Stamping Techniques and this is one of the things I love most.
I always thought stamping was just a matter of inking up the rubber image and pressing it onto some card stock. It is so much more and I will detail just one of the colouring techniques on this page.
The stamp sets I've used are both from the 2009 Summer Mini Catalogue.
If you really like what you see, and can imagine creating your own cards you will find my contact details at the bottom of this page.
The first card uses some of the stamps from the Embrace Life stamp set. I've stamped onto water colour paper, then used the colour from some of my Earth Elements Many Marvelous Markers along with an Aqua Painter (brush) to colour the images.
You may ask how this is done.
It's wise to use either your Basic Black or Basic Brown Inks or the Stazon Jet Black Ink for the stamped image, as they are waterproof and won't bleed when water is near them.
Then, using the coloured marker of choice, add a little colour close to the outline of the image. Ensure the Aqua Painter tip is damp by squeezing the water filled barrel and blend the colour as far as you want it to go.
Here is a photo of the card so you can see what I'm talking about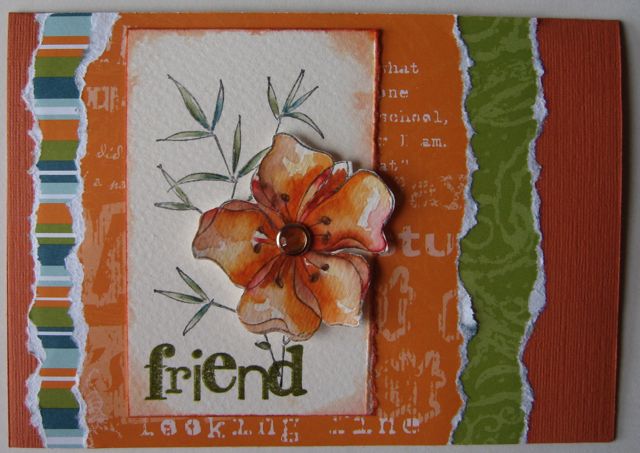 Notice how I've used coordinating coloured papers from Stampin Up. The torn edge technique adds a nice touch, and the variety in colours in the papers help to add interest to the card, and I've drawn attention to the centre of the flower by inserting a Rhinestone Brad then raising it up on a Dimensional.
You can see the lovely texture of the watercolour paper in the detail shot, plus you'll notice how the colours are allowed to create texture by overlaying and leaving white spaces in between.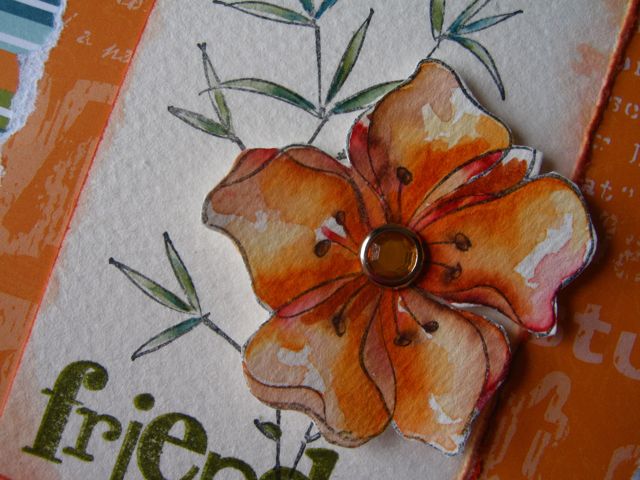 The next card uses a very different style of stamp - one that is really useful for Male Cards. Everyone loves a puppy, and this little cutie looks like he's been up to some mischief!
The stamp set is called For Father. It is on the back page of the Summer Mini Catalogue.
Once again I've used the Watercolour paper and Markers for colouring, and the torn paper technique. On this card I've also used Clear embossing on the greeting, a chipboard heart, (coloured with classic ink) and some sponging to highlight the title.
This has to be my all-time favourite Rubber Stamping Technique.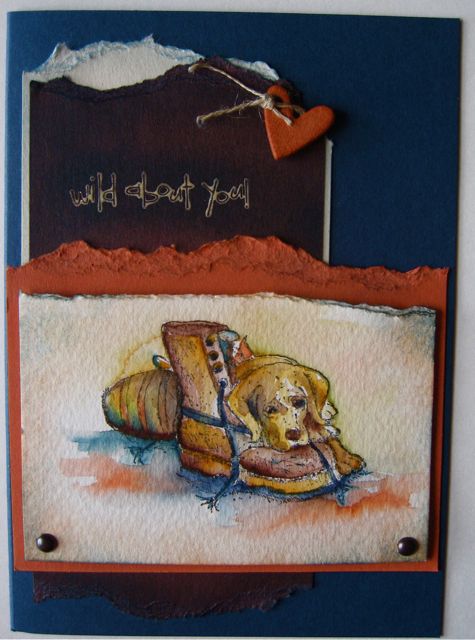 The detail shot shows one of the colouring tricks I love to use in this rubber stamping technique- that is making my shadows blue rather than black. I find this helps to keep the painting alive and vibrant. You may also notice that I don't find the outlines to be too restrictive, and never worry if a bit of colour goes outside the lines - this is what watercolour is all about to me.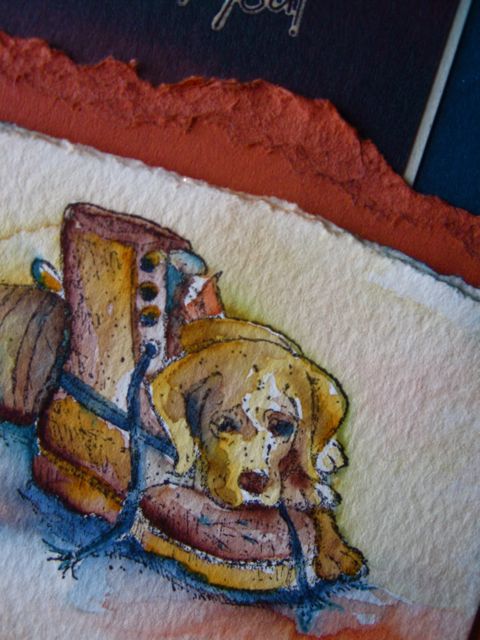 If you would like further information on the wonderfully relaxing stamping technique, you can contact me. I'm always happy to help and share any technique information I have. If you'd prefer to have a demonstration - that can be organized too. Meanwhile - give this rubber stamping technique a go. It's so relaxing, there is no stress to be able to draw as the stamped outline does all that for you. All you have to do is choose your colours and enjoy experimenting to develop your own personal style.
Go from Rubber Stamping Techniques - Watercolour Markers to other techniques

Find out how you can save 20% on all your stamping supplies

Return to Home Page