Create This Scrap Page Layout Using POP Double Sided Papers and A Few Easy Stamping Techniques
POP papers make scrap page layouts so quick and easy. They automatically allow you to have co-ordinating patterns and subtleties in colours.
Hello again - the wanderer has returned from 3 glorious and indulgent weeks in far North Queensland.
My time away was not totally devoid of stamping and scrapping - after all, my favourite subject (Tyler) was on hand the whole time, and Kari organized a couple of craft days with her friends. I was able to complete 4 layouts and do a bit more water-colouring in amongst kisses and cuddles for the baby.
The first layout uses the Palette O' Prints papers in the Almost Amethyst range.
These papers are no longer commercially available but if you would like some, read on to find out how you can get a pack for FREE.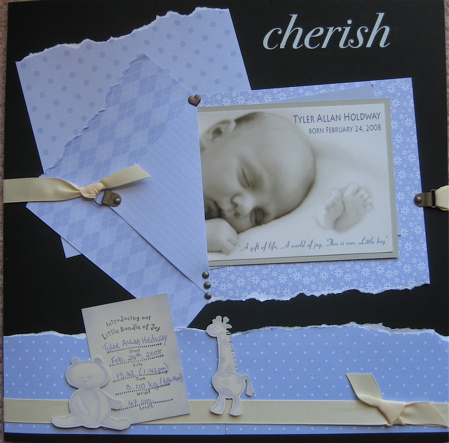 I've also used the very versatile 1.6 cm Very Vanilla Grosgrain Ribbon, some HodgePodge Hardware and some cute images from Stampin' Up's Bundle of Joy stamp set.
Some torn edges soften the harsh squareness of the papers, with angles and different patterns creating interest in the layout.
The "photo" is the birth announcement, and it just slips under the folded flap.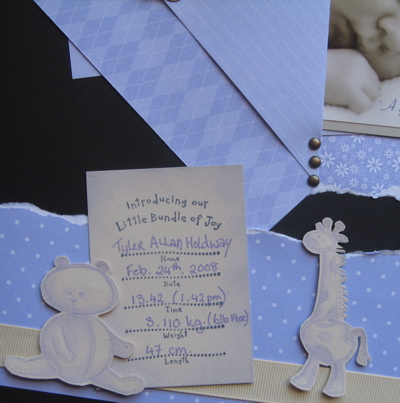 The images from the Bundle of Joy stamp set have been stamped using Almost Amethyst classic ink and coloured with the same ink using a Blender Pen.
A white Rub-On from the "Cherished Memories" pack (p. 141 in the IB&C) completes the layout.
Browse the Stampin' Up Idea Book & Catalogue on-line
If you missed out on purchasing some of these useful paper packs during the recent promotion, and would love to have access to the Almost Amethyst colour range (you can't buy this via the catalogue)- you are in luck as I have a couple of spares to give to my next 2 hostesses via the web site.
So... if you are in the Canberra Region OR if you would like to host a Catalogue Party and get orders from friends to the value of $300.00, I will add a POP pack to your goodies.
If you want to host a catalogue party and don't already have a catalogue, contact me on the form below to discuss your options.


To see other uses for the POP paper packs, and learn product details, click here.
---
Contact me if you would like more information on any of the techniques or products used.
---
Return from POP scrapbook page to Home Page