Ann Craig's POP Card Workshop - Great Work Ladies!
Stampin' Up's! May promotion of the POP block of designer series papers has been a huge success. So popular in fact, that sales have far exceeded expectations and are running out fast.
Luckily this group of talented stampers attended a workshop in time to be able to purchase some of the papers, and they will be able to make many beautiful cards from them.
I was so impressed with the results that I asked if I could display them on my web-site - here is the first grouping.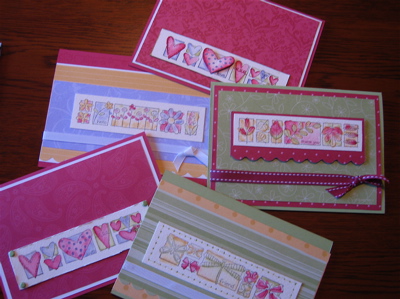 I didn't give a lot of instruction to this group - they are all really creative. I simply demonstrated the water-colour technique using Stampin' Write Markers as the colour source. I introduced them to the joys of water-colour paper. and provided card stock in the 4 colours available in the POP block of papers
These colours, interestingly, are basically 2 sets of Complimentary Colours and 2 sets of Harmonoious Colours.
I encouraged the use of either Harmonious or Complimentary selections for maximum effect, but I was thrilled to see some workshop attendees did their own thing and came up with great work.
The selection of patterns allows for great variety and even tho' some thought they would copy the first card exactly - just to get the feel of the technique - they turned out individual cards in the end!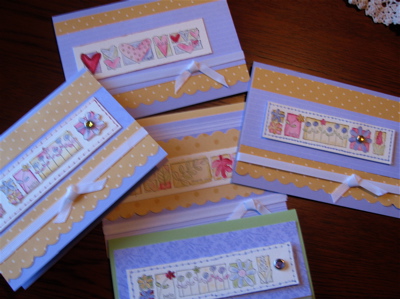 For starters I limited the Markers to the 4 colours of the papers, but as everyone got into the swing of things, and ideas started flowing, a few other colours crept into the palette.
I love to see this happen.
We had the addition of some gorgeous rhinestone brads, faux stitching, cutting out sections and raising them up off the page with dimensionals
You will note the use of the very versatile "A Little Bit of Happiness" Hostess Free Level 1 set. Naturally the hostess chose this as her free set.
If you would like the opportunity to own this set place an order for $50.00 or more through the web-site, and you might win it!
I also have 2 POP blocks of Designer Series papers each valued at $12.95 up for grabs.
If you are new to Stampin' Up!, have a look around the site. See my previous blog entries and informative web pages.
If you would like more information on joining my team as either a discount, hobby or career demonstrator

follow this link.