Ann Craig Shows More Journal Pages Using Stampin' Up's! Simply Scrappin Kit - "Secret Garden".
It was really a labour of love to make these journal pages for mum.
I think she must have really enjoyed turning 80 as she had 2 parties - one in Canberra and one in Surfers Paradise. I was lucky enough to attend both, so have photos to fill all the pages of her birthday book.
She loved the result and will enjoy browsing through it if she ever slows down long enough to sit quietly!
Here are some more pages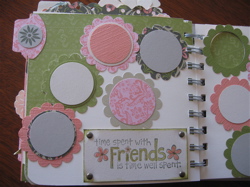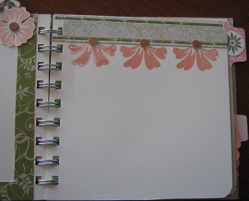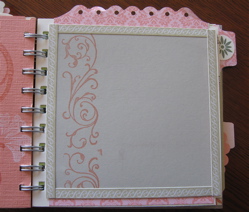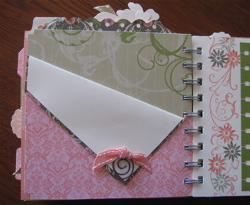 You can see that the rubber stamps and the Simply Scrappin' Kit co-ordinate beautifully and give you many options to create different page layouts. Add a few tags, a bit of Hodgepodge hardware, join some pages together, cut out shapes, add ribbons and voila! you will have a unique journal.
These make lovely gifts for just about anyone, and can be as large or as small as you want.
You can also use lots of co-ordinating papers - the Designer Series Double Sided Papers from Stampin Up are always great. You know they will co-ordinate and work well with all the accessories, plus they can be used to provide quick decorative coverage of large blank areas in the book.
It is always tempting to fill the project up with lots of pictures, decorations and patterns, but don't forget to leave areas for Titles and personal notes. The recipient may well have notes she/he wants to insert. Little snippets of information that remind her of the occasion.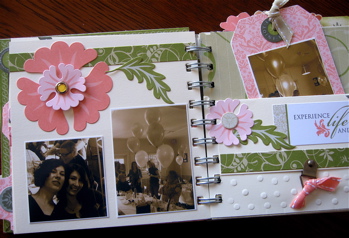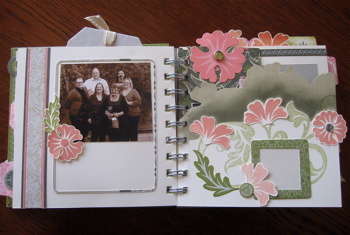 ---
Like to see more ideas and different topics? Click here.

Return to first Birthday Journal Page