Add Embellishments To Take Your Card To New Heights
Are embellishments necessary on your cards? There are times when a simple card is just right for a specific occasion, and there are times when you really want to make that extra effort for a special person or occasion.
I have some samples here to show you how different a card can look depending on what is added or not added. Let's look at the first card.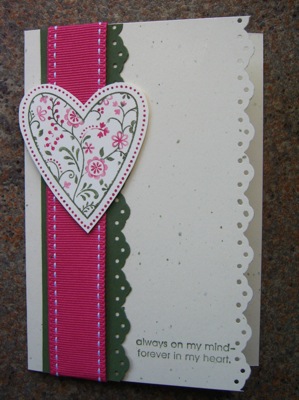 This card relies on the Complimentary Colour combination of pink and green, plus the change in textures and pattern for its impact. The card was quick and easy to make. I used Stampin Up products -
Card stock - Confetti White, Whisper White, Always Artichoke and Rose Red.
Stamp Set - Always p. 95 in the IB&C
Stampin Write Markers - Regal Rose, Rose Red and Always Artichoke (all from the Rich Regals Colour Family)
Ribbon - 2.5 cm Double Stitched Wide Grosgrain - Rose Red
Punch - Eyelet Border Punch.
I always felt the card was missing something, so one day I added a few extra embellishments, cut the front off the card and mounted it onto Rose Red card stock - this is the result: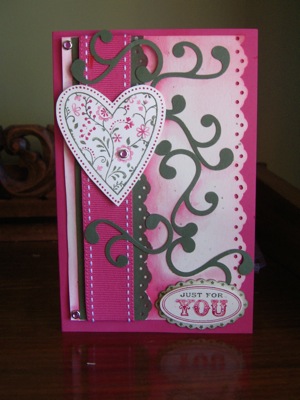 I loved the addition of the punched swirls, sponging and the Rhinestone Brads, and you may notice the punched and raised new greeting. Again I used the Stampin Write Markers and the "direct to rubber" to create the change in colour. A little sponging around the edge of the Oval Scallop Punched shape helped define the greeting and provide further textural interest to the card.
Then one day my daughter arrived and asked if I had a "pink" card with butterflies that would be good for a birthday card for a work friend of hers. Well that was easy - I pulled out this card and my butterfly stamp and punch, and this is the result.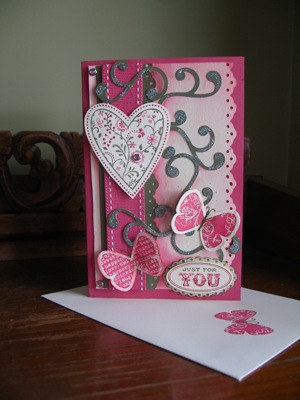 This has probably become a bit too busy for my personal choices, but we had to have butterflies. My point is you too can add embellishments and take elements of simple cards and step them up into something special and purpose made for any occasion.
If you would like further information about the products or techniques I used on these cards you are most welcome to contact me
I'm always happy to share what I know about the techniques I've learned from being a Stampin' Up! Demonstrator.




Learn more about the Stampin Up Demonstrator Opportunity

See other samples of creating embellishments and using Stampin' Write Markers on my Demonstrator Business Website