Using A Dry Embossing Technique Will Create Texture And Interest On The Simplest Of Cards.
I wanted to try Dry Embossing on a few cards and found this great Stampin' Up stamp set in the Australian Summer Mini Catalogue. I decided to combine it with using the Cropodile as the simplest method of gaining the added texture that I wanted.
In an effort to force myself to spend less time on making cards, I selected just 2 colours of card stock: Whisper White and Mellow Moss.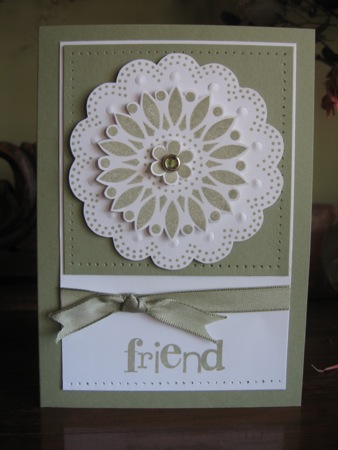 First of all I stamped the entire large flower twice in Mellow Moss, and cut one whole flower out with the Paper Snips which by the way, are essential for accurate and smooth cutting of card stock. I cut the solid centre pattern out of second flower image and discarded the outer stamped area.
Next, Dry Emboss the centre of each scallop using the eyelet setting end of your Cropodile. Don't press too hard though, or you'll end up with little holes in the card.
Layer the images on top of each other using dimensionals and highlight the centre with a Rhinestone Brad.
The ribbon is Mellow Moss Taffeta and the edge details are created using the Matt Pack and Paper Piercer.
This design would look great using lots of different colours too, as it is quite easy to use the Stampin' Write Markers for the direct to rubber technique.
I'd love to dry emboss the backgrounds too, but don't have a Cuttle Bug or a Stampin Up Hot Shot. Can't wait for that to come to Australia!!
Go ahead and try this one - it won't take long and a few in different colours would make a great gift pack for a friend.
Have a look at the Summer Mini Catalogue to see all the other lovely offerings from Stampin' Up. If you see something you must have, or you would like a free copy of the Summer Mini, you are most welcome to contact me. I can place an order for you and assist you with other creative ideas and projects.




Try Other Stamping Techniques That May Compliment Dry Embossing

Click Here To See How You Can Always Save On Your Stampin Up Purchases.

Return to Home Page