The Designer Series Paper Blocks Make Creating This Tri-Fold Card Quick and Easy.
My sample block of these gorgeous Designer Series Papers has arrived and I am having a ball experimenting with them.
They remind me a lot of patchwork, because of the variety of designs in co-ordintaing colours. (and I that gives me an idea for a few more card designs) Sometimes, I wish there were 50 hours in the day so I could act on all the ideas.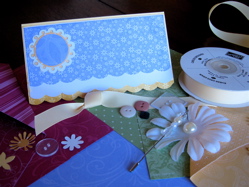 I love the fact that the Certainly Celery compliments the Rose Red and harmonizes with the So Saffron. Likewise the So Saffron compliments the Almost Amethyst, so you can achieve designs that are vibrant (Complimentary Colours) or designs that are restful (harmonious colours).
Not sure what the May Promotion is all about? .
The Palette O' Prints Designer Series Paper Block Promotion creates a wonderful opportunity for all you avid scrap-bookers and card makers to obtain a 6" x6" sampler pad of Designer Series Papers for just $12.95 with every $35.00 you spend on Stampin' Up! products.
This one time offer gives you...
48 double-sided sheets. The colours are Certainly Celery, Rose Red, So Saffron, Almost Amethyst, and you will get 12 sheets of each colour - two sheets of each pattern in each colour.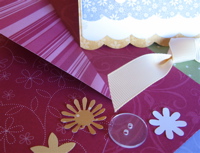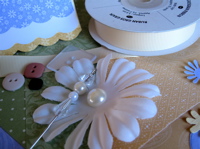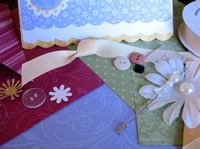 These papers are quite exclusive, particularly the So Saffron, and Almost Amethyst sheets as those colours will not be available after this promotion.
Have a look through your wish lists and if you can't get to a workshop in May, just phone or email your orders through to me.

Remember... Every $35.00 spent entitles you to another sampler pad of these gorgeous papers for $12.95 each Here is a photo of the Tri-Fold Pouch I made yesterday. I adapted the pattern from one found on Splitcoast Stampers. A terrific site for ideas. They used an A4 sheet of card, but the pouch I needed had to be bigger than that, so I used a 12 x 12 piece of Stampin' Up!'s beautiful new textured card stock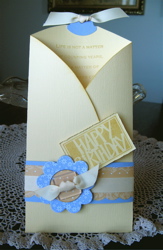 Just divide the sheet of card into 4 equal parts and score along the 3" and 9' marks to get your basic measurements. Here is a list of the Stampin' Up! products used in this project:
- 1 sheet 12" x 12" So Saffron Textured Card stock
- Almost Amethyst and So Saffron Designer Series Paper
- On Board Blossoms and Basics
- Clear Button -large square
- 1.6 cm Grosgrain ribbon - Very Vanilla
- Round Tab Punch
- It's Your Birthday Stamp Set 108849 (this is the stamped image on the inside back of the pouch - the "Happy Birthday" stamp is a 2000 Stampin' Up! set that I came across and loved)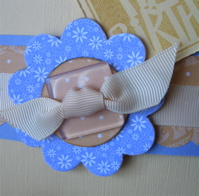 If you would like to have a workshop that demonstrates how to make this pouch, or to see other ideas for the Designer Series Paper block then please contact me to book a time

If you would like information on Stampin Up, have a look at some of the other pages on my web site. If you enjoy browsing, go back to my home page and follow the links to various information pages

Home Page
---