The Crayon Resist Technique Introduces a Little Serendipity Into Your Cards
If you want to see examples of cards using the Crayon Resist Technique, and a variety of rubber stamp sets, I have just uploaded a couple of pages into my card gallery.
This technique can be approached in various ways - the two most common being either to brayer the ink over the image, or to sponge the ink over the image.
But let's start at the beginning.
Supplies you will need to make this sample card are:-
Glossy White Card Stock, Black Card Stock, Purely Pomegranate Card Stock, Stazon Black Ink, Spiral Punch, Purely Pomegranate Double Stitched Ribbon, Stamping Sponges, Scribble This Stamp Set, A Greeting Stamp of your choice, Dimensionals and Snail adhesive and a White Wax Crayon. Inks used are: Soft Sky, Groovy Guava and Purely Pomegranate.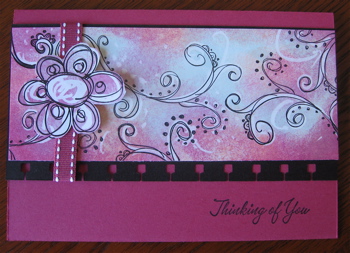 Method
On a spare piece of glossy white, stamp your flower images a couple of times using Stazon Black Ink. At the same time and still using Stazon, randomly stamp some of the swirly images along a rectangular piece of glossy white. Set aside for a moment or two to allow the ink to dry.
Draw highlight lines along the contours of the designs, or anywhere you think you might like a highlight. I have also added extra dots and lines of crayon to make the patterning in the background more interesting.
(It is often fairly difficult to see just where you have placed the crayon - that is where the serendipity comes into the project. It is a nice surprise to see the images popping out as you apply the ink).
Always start with your lightest ink colour. Pick up some ink onto your sponge, and dab it onto selected areas of the glossy card. Be sure to leave some white areas as you will want to get some true colour areas with some of the darker colours. When the card is inked to your satisfaction, gently buff with some paper towel - this removes any excess ink from the crayon resist areas.
Assemble the Crayon Resist Card
First cut around the flower image using the Stampin Up Paper Snips. Cut some black card stock about 1 cm wider than the glossy white, and use the spiral punch along one side. Glue the black and glossy cards together, and wrap a little double stitched ribbon around one end. Attach the ribbon at the back with Mini Glue Dots. Raise the flower image up on a Dimensional and stick to a Purely Pomegranate A5 card.
Add your greeting wherever it pleases you.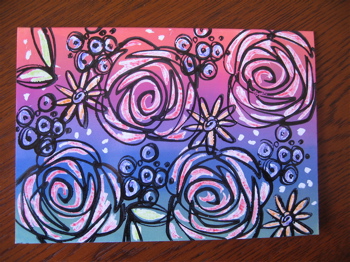 This next example uses a brayer and a spectrum ink pad. I have also used coloured wax crayon so that the highlights are not so "white". You can see how the Crayon Resist technique even removes some of the colour out of the crayon.
Brayering is quicker than sponging, but requires a little practice to get nice smooth applications.
View more Crayon Resist Technique examples here
If you would like to try this crayon resist technique and require products, you can order them from me. Just fill out this form and I will assist you.