Create A Unique Christmas Craft Project Using Stampin Up Stamps And Accessories Together With Found Objects To Make A Wreath.
I love decorating my home for Christmas, and I Love doing Christmas Craft Projects. Particularly, I like to have decorations that I've either made, or that are in some way a reflection of what this time of the year means to me.
For this Christmas Craft Project I've combined my love for painting and stamping (this makes things a whole lot easier), searched out some old grape vine wreaths that I made when pruning the grape vines over 12 years ago, and added the beautiful aroma of scented cedar roses. Add to that some of the gorgeous 2.5 cm Purely Pomegranate Satin Ribbon and pearls from the Pretties Kit from Stampin Up, and a few dried flower stalks - and you have a lovely wreath all dressed up and ready for Christmas.
Here is the finished project.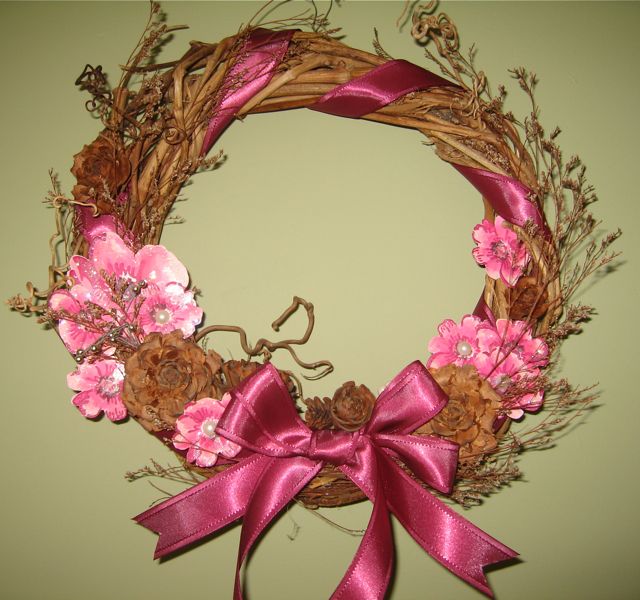 And here are some steps to show you how this Christmas Wreath was made.
Step 1.
"Wild Rose" is a 2-step stamp. Stamp both layers of the large rose, using Pretty in Pink first, then Purely Pomegranate for the darker details. Don't forget to use your Stamp-a-ma-jig to align the images correctly.
Repeat the process with the smaller flower.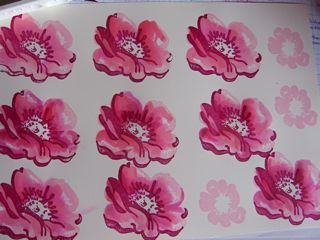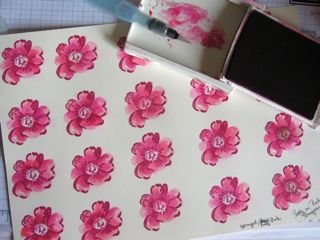 Step 2.
Use the Aqua Painter or a good sable brush and water to add additional colour into the centres of both the large and small flowers. Take care not to flood the card stock as it does not have the properties of water-colour paper and will not like to be scrubbed or overworked. I used Rose Red and Pixie Pink to obtain variations in the petals.
To make yourself a little ink well, just squeeze the top and base of the Stampin Up ink pad together, then use it as a palette. Don't be too heavy handed here, and remember when adding more colour to your stamped images, to leave some very light areas so that you can create a 3-D effect on your flowers.
The final step in colouring is to use your Bravo Burgundy Stampin Write Marker to create a darker centre for the flower.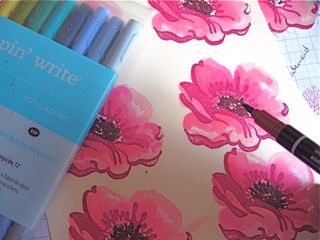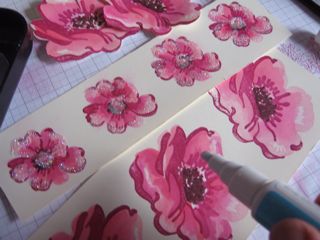 Now a teensy bit of glitter never hurt anybody, and it certainly adds a festive air to Christmas Craft Projects. So next we do the "easy method " of adding glitter or Dazzling Diamonds to the flowers.
Just take your Stampin Up 2-way glue pen and draw wherever you want the glitter to be. Then pour the Dazzling Diamonds over the images and allow to dry. Some of the excess glitter will come off - but I find this a terrific way to add the dazzling diamonds as you can be quite specific with the areas you want to decorate. I would advise "drawing " quite freely with the glue pen so that you don't always stay on or just inside the outlines.
The next graphic shows you a detail of the build up of colour and the addition of glitter to the images. You can see that I am just giving an impression of depth, and again, if you use my favourite method of squinting at your work as it progresses, you'll be able to see your own impressions.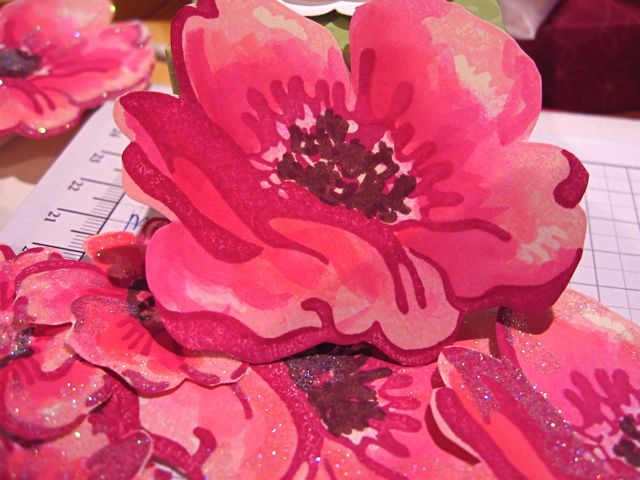 Cut out the flowers and group them in layers before you add them to the wreath. I used a combination of Mini Glue Dots, Pop Up Glue Dots and Dimensionals to create various layers within the groups. Visualize the placement and combine some of the cedar roses if you are making a "Country-style Wreath".
Wrap the Pomegranate Ribbon diagonally around the wreath and to make the bow a little more impressive, I tied 2 equal length pieces in a bow at the same time. I added a few pearls and half pearls from the Pretties Kit from Stampin Up and a few other found objects from my craft room downstairs.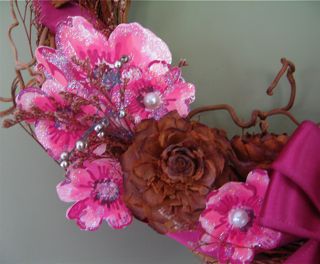 The next Christmas Wreath I try will use the Hostess Stamp Set - From The Garden. I plan to do it in shades of gold and white, and hope it turns out how I am picturing it in my head.
If you would like further information on any of the products used in this Christmas Craft project, please feel free to contact me
If you would like to order any of the products used in this Christmas project, you can view the Stampin Up Ideas Book and Catalogue here , make your choices and order the products through me. The goods will be shipped directly to you within a few days of payment being received.
I hope you enjoy making a wreath as much as I did. I'd love to see some of the results.
Come and visit again to see more Christmas Craft Projects in the next few weeks.
Comments

Return from Christmas Craft Projects To View My Christmas Card Slideshow

Find out how you can get 20% discount on all your Stampin Up supplies