Make Quick And Effective Christmas Cards Using The "Stamping Off" Technique.
Christmas always sneaks up on us, and if we've determined to make all our cards, sometimes we need a quick and effective technique that allows production of many cards in a short time.
The first card I'm going to show you fits the bill very nicely. Not only is it quick - I've used some of Stampin' Up's gorgeous double sided papers to achieve co-ordinating patterns, and all you have to do with the paper is cut it to size and adhere it with snail adhesive, but the stamping part of it is super fast and effective as well.
I've used a non-Christmas stamp from the retired SU set Stem Silhouettes for this card. I love the simplicity of the images in this set and they lend themselves beautifully to the stamping technique called Stamping Off.
To achieve the variation in the colour, you simply ink up the stamp, and then repeat the image a couple of times without re-inking the stamp. The image will become lighter with each impression and you will create depth and interest in your design.
HINT:Test your chosen colour on a scrap first as some colours "stamp off" better than others. You'll find most of the darker hues work well, but just try out your chosen colour first.
HINT: sponge lightly around the edge of the card before adhering it to the base card. This always seems to soften the edge and create a nice finish to the card.
The list of Stampin' Up! products I used includes
Card: Whisper White, Confetti White, Purely Pomegranate.
Ink: Purely Pomegranate
Ribbon: 2.5 cm Satin - Purely Pomegranate.
Punches: Large Oval, Small Oval.
Stamps: Stem Silhouettes (retired),
I always find it easier to get a nice flat knot if I stretch one piece of ribbon across the card, adhere it to the back and then take another piece of ribbon, thread it under the first piece so it forms a right angle (90 degrees) with the first piece. Bring the top piece (Left) down, and take the bottom piece up and over then through the loop. Adjust a little and hold in position with a Mini Glue Dot or two.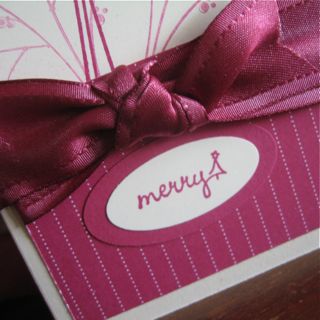 The next card uses the fantastic Season of Joy stamp set from the Spring Mini Catalogue. I hope you didn't miss out on that one - it's such a versatile set, with images that can be used for both Christmas and other occasions.
This card is a little more complicated because it uses "Masking" as well as Stamping Off. I've also used a little of the 2-way glue pen and Dazzling Diamonds on the snow covered ground.
The centre tree was stamped on a spare piece of card, cut out and raised up on dimensionals. (Love those dimensionals!)
Faux Paper Piercing has been achieved by using the journalling end of the Not Quite Navy Stampin Write Marker, and the Matt Pack guide.
Colours used in this card are: Whisper White and Not Quite Navy card stock and ink. Don't you just love these colours for Christmas?
View other Christmas cards and projects here.

Contact me if you'd like more details about these projects.

Find out how you can save 20% on your Stampin Up Supplies

Return to Home Page