Christmas Holiday Lineup
The cards made from the Christmas "Holdiay Lineup" stamp set from Stampin Up are both fun and easy to make.
You'll find that simply by changing your colour scheme you'll be able to create vastly different cards. Add a little 2 way glue pen and some Dazzling Diamonds glitter and you will quickly add some of the bling that is so popular around Christmas.
You may like to do away with colour all together and just use Black & white. I tried this in a couple of the cards and have to say they come close to being my favourites - I'm not sure if this is because I love (and thoroughly enjoyed doing) all the additional doodling or whether it's because they are a little non traditional.
The best way to show you is to post some photos so here they are: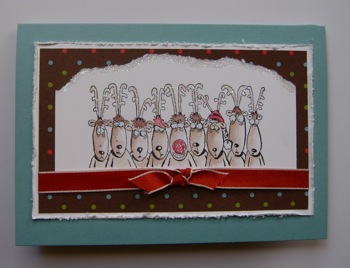 I've used my Aqua painter and the Classic inks to quickly colour in the images on this card. Add a background of DSP from the Holiday Treasures series and some Riding Hood Red Taffeta Ribbon then highlight Rudolf's now with some Dazzling Diamonds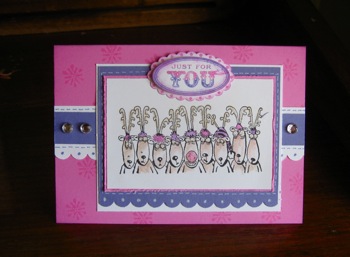 This card uses the same image with a different colour scheme. I've take a little more time with this card and have added scalloped edges using the Scallop Edge Punch and the Cropodile to punch hole in the scallops. I've also used the Scallop Oval Punch plus the 2 Oval Punches - all available from Stampin Up.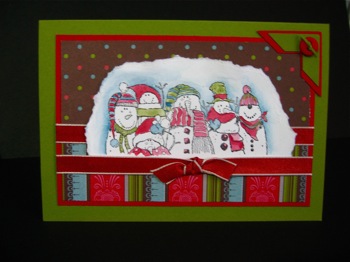 This card used more traditional Christmas colours, blending in with the Holiday Treasures DSP . I like the contrast of the torn edges against the straight cut edges, and the embellishment is made with the Corner Edge punch and a button. The "thread" in the button is actually a thin peice of Old Olive card stock that I've rubbed against the edge of the table to soften the fibers and hence been able to tie the paper in a knot.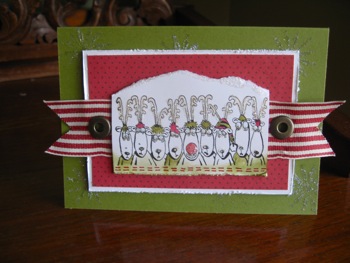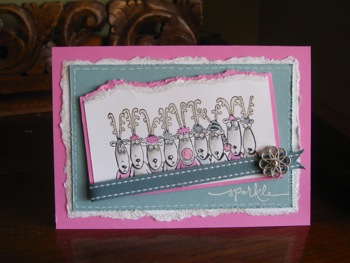 This is one of my favourite Versions of this Christmas set. I really like the angle of the image, the colour scheme and the addition of the Filigree Designer Brad
And finally I have a couple of Black & White versions to show you.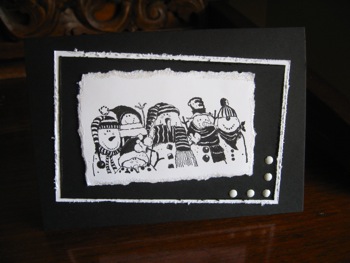 These were quite easy to make as I only needed to stamp the image in Basic Black ink then use my Black Journaling Pen to colour in selected area.
I find one of the most relaxing things to do is "colour in" and I love pattern, so I found these cards very therapeutic to make.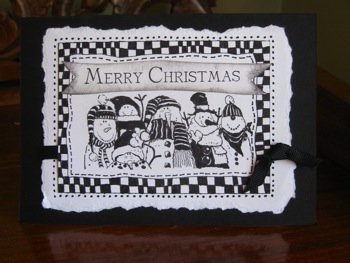 If you would like further information on the products used (they are all Stampin Up) or would like to know more about any of the techniques, please contact me here. You may also like to look at my new Stampin Up Demonstrator Website (DBWS) where you can view information on all the latest Stampin Up promotions and specials
Follow these links if you are looking for

other Christmas Ideas.