Cards From Ann Craig's Christmas In July Stamp Camp 2009
At this year's Christmas In July Stamp Camp we made 10 projects - mainly cards. I love the way the participants were able to put their own "stamp" on each project. By that I mean they were able to add their own touches of creativity, or if preferred, they could copy the examples exactly.
I had some priceless comments during the day, most relating to the fact that each card came as a little project pack with everything cut to size and ready to assemble. This was card making made easy! Actually it was because I had so many ideas to share with the participants that I didn't want them to waste time on mundane things like cutting and measuring when they could devote their time to creating.
I divided the day into 4 sessions - the first 2 sessions were devoted to 3 different cards in each session. This worked really well with a couple of stampers working on one card at a time and then moving on to the next card. No-one was really held up and those that finished first were the first to try out home made shortbread and chocolate fudge for morning tea.
Part of the Christmas In July Camp Registration fee covered the purchase of a stamp set that I had planned to use in a number of different ways. A Wish For Peace is a simple, inexpensive little set that had so many possibilities. I love the traditional feel and could immediately see some collage styled cards evolving. But, wanting to cater for all preferences, I varied the colours and styles to demonstrate the versatility of this set from Stampin Up.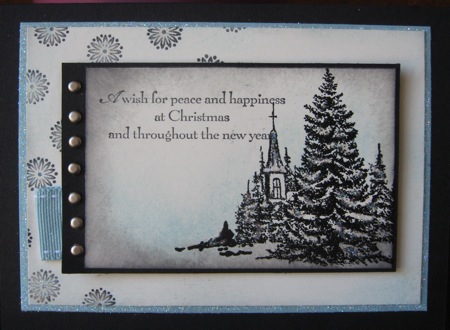 This card started out as a Vanilla and Black creation, but lacked depth. I love the new Baja Breeze from the Australian In Colours from Stampin Up, so added a frame - treated with the 2-way glue pen and Dazzling Diamonds glitter - some Double Stitched Baja Breeze ribbon and some light Baja sponging behind the embossed black image.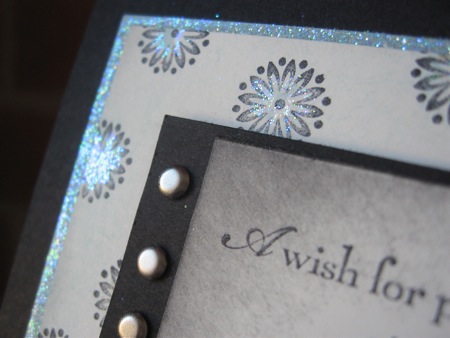 The next card using this set is very simple and quick to make. It involves the dove image - embossed in white and sponged with an ink that co-ordinates with the card stock used. In this case we used Not Quite Navy from Stampin' Up! The card was detailed with some white Taffeta Ribbon.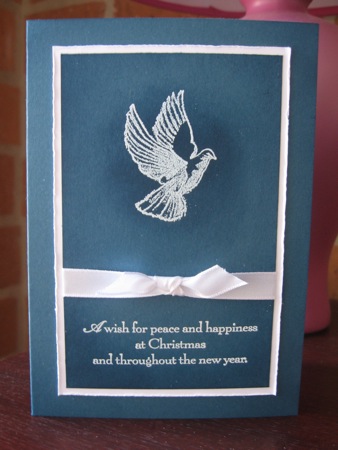 The greeting has been centered and embossed in white, and light sponging has been added around all the edges of the Not Quite Navy card pieces.
HINT: When sponging ink over the top of embossing, polish off any excess ink with a tissue or paper towel to keep your embossed image shiny and untainted.
I can imagine a whole series of these cards made in a rainbow of colours. This would make a great Stamp-A-Stack Project. So keep your eyes on the web site for a date closer to Christmas when you can join me.
The final card in the series from this stamp set involves many techniques - so I've devoted a page to give you details of the information
Our new Mini Catalogue - due out August 1st - has the most beautiful christmas Designer Series Paper pack in it. I was able to pre-order some of this to show off to my stamping friends, so I used it in some of the cards we made at this Stamp Camp.
DS papers help make card making quick and easy. They give wonderful effects, can be stamped on, sponged and cut to any size and shape as they come in a generous 12 x 12 inch size. This is the card we made using a small portion of a Baja Breeze page from the Ski Slope Designer Series Paper Pack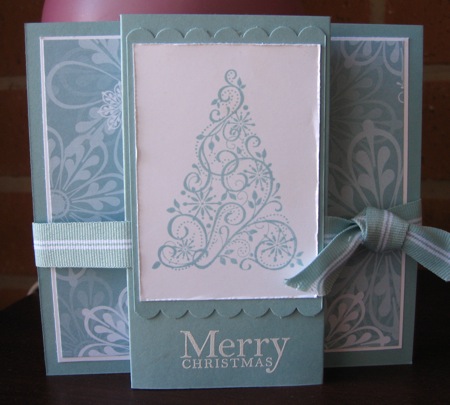 The tree image is from the Snow Swirled Stamp Set available on page 30 of the current Idea Book and Catalogue
I've used the Scallop Edge Punch, some Baja Breeze Striped Grosgrain Ribbon, Baja Breeze card stock and Whisper White card stock. The interesting aspect of this card is the folding - a 4 fold card that creates 3 planes - to me that means 3 surfaces to decorate, so you can just imagine the possibilities of a card made to this formula.
Follow some the links below to view more examples of the projects covered at the Stamp Camp.
Christmas In July 2009 - 3 bright cards

A Wish For Peace Window Card Details

View A Variety of Techniques To Make Your Cards Unique

Like to order any products from the new Mini Catalogue? - contact me here