Big Shot Purse Cards
The Big Shot die cutting and embossing machine is a fantastic accessory to own when you want to make quick cards and paper-craft gifts for friends.
I have used the Top Note die with Stampin' Up Designer Series double sided papers to create these very cute purse cards.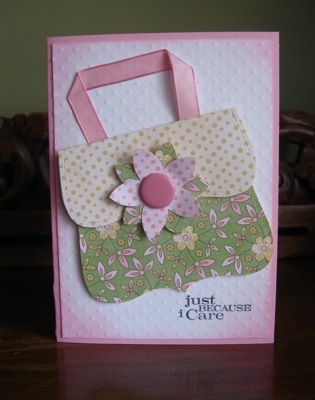 This is my first effort - the card was very quick to make and you'll find using coordinating products from Stampin' Up make the creating so much easier.
Can you see the embossed background? I've used the Textured Impressions Folder called Stampin' Up! Perfect Polka Dots - BEWARE! - once you own this you'll be using it all the time.
You can see all the accessories Stampin' Up! has on pages 6 - 10 of the Autumn/Winter Mini Catalogue.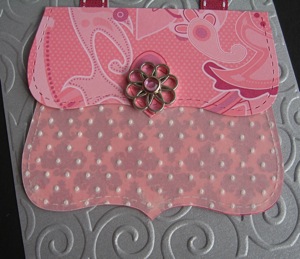 I was sharing my new toy with some friends recently and we enjoyed a lovely day of stamping and experimenting with the Big Shot. This card (made by Denise) was a little too bold in colour, so she added some vellum that had been embossed with the Perfect Polka Dot folder and the result is stunning. It was a quick job to cut the vellum with the Top Note die and then run it through the Big Shot inside the Perfect Polka Dot folder.
This card is made by Lorraine. It is wonderful to see the variety that can be obtained simply by choosing different Designer Series Papers and ribbons to match. Of course you can change the greeting to suit just about any occasion too.
Add a creative touch by placing the "purse" on an angle and let it escape from the page on one side. Lorraine has added some sponging to the backing card.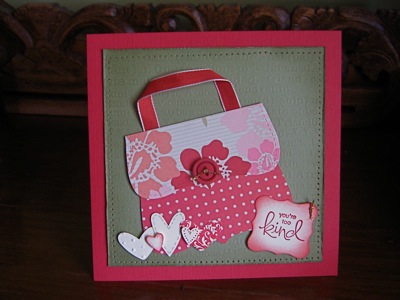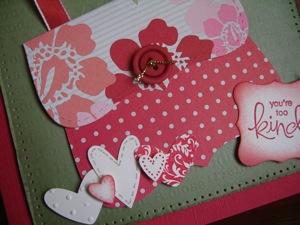 The trick to making these cards is to select double sided paper that will create good variety in pattern. this is important because you see both sides of the paper when the Top Note shape is folded. Just be aware that you need to trim off the little points from each side of the Top Note shape, and then fold the shape at about 1/3 down from the top. Choose any ribbon that coordinates and add accessories of your choice. With this final card I added some other punched shapes.




See more Big Shot projects on my Demonstrator Business Website

Contact me to order Stampin Up products via email or phone

See more information about becoming a Stampin Up Independent Demonstrator